Our TCL Week 3 Power Rankings saw two trends rising. First, the top of the standings started settling, and secondly, the bottom has jumped around wildly. The week started out with some close matches,but the back half seemed to really be stomps. Please remember that these rankings put stronger emphasis on more recent performances that later. With that said, lets get into the rankings!
Rankings
1. BAUSuperMasive (-)
The Blue Owls solidified their place at the top of the standings this week after handily taking down both the Royal Bandits and 1907 Fenerbahçe. Both games were a lot more one-sided than the kill count would lead you to believe, with only four turrets and a single dragon lost between the two games. Their match against Dark Passage looked a lot closer, but a phenomenal performance by ADC Zeitnot led the team to a resounding victory. With the entire roster firing on all cylinders, it's looking like nothing can stop SuperMassive from taking the first half of the split uncontested.
2. Royal Bandits (-)
It was a rough week for the Bandits, as they took their first week with a losing record, going 1-2 on the weekend. A loss to BAUSuperMassive is understandable considering their form, but losing again to HWA Gaming is just unacceptable for a team striving to get on top. That's two losses to HWA in three weeks, which is concerning as either the team doesn't take them seriously, or HWA hard counters them. Both are worrying trends going forward. Thankfully for the Bandits, they stay at two after an equally bad week for Fenerbahçe in which the Bandits also took care of them in their lone win. Hopefully they use the next two weeks to fix this up for their next match-up.
3. 1907 Fenerbahçe (-)
Poor Fenerbahçe was so close to the top two this week, but losing to both teams above them keeps them locked in third. They've really cemented themselves at this spot with all four of their losses coming to the two teams above them. This doesn't mean, however, that the team is bad, especially with how strong their wins have been. The Yellow Canaries have been growing stronger week by week, and as Chaser acclimates to the team this will only accelerate. With matches against DP, HWA, and Galakticos this weekend, FB will be looking to get back on pace and prepare themselves for their next matches against the top two.
4. Team AURORA (+2)
Team AURORA seems to have finally figured things out this week, going 2-1 on the week, including a win over Dark Passage. Mid-laner Naru and ADC Rain are really putting their carry pants on, but it was a change in the support position that seems to have set them on the right path. Rogu has been benched, at least for this week, in favor of of former DP substitute Farfetch, whose performance on Morgana was absolutely incredible (0/2/16). A look at his history shows this is definitely a pick teams will want to ban against him in the future, but already he's proven an effective upgrade. We'll see if this was a one off weekend, or marks a turn for the team, this week as they take on Youthcrew, HWA, and Royal Bandits.
5. Dark Passage (-1)
Dark Passage faltered a bit this week, going 1-2, with losses to AURORA and SuperMassive. Their win over Youthcrew was also a bit weak, with 5 turrets, two drakes, and Rift Herald being given up. While they did manage to pull out the win, those aren't the sort of objectives you'd expect a team gunning for playoffs to give to what was, at the time, the bottom team in the league. This upcoming week won't be any easier, with matches against Fenerbahçe and Royal Bandits, followed by what should be an easy win over Galakticos. If they struggle in this last game, concerns might start growing for this teams hopes for the split.
6. YouthCrew (+1)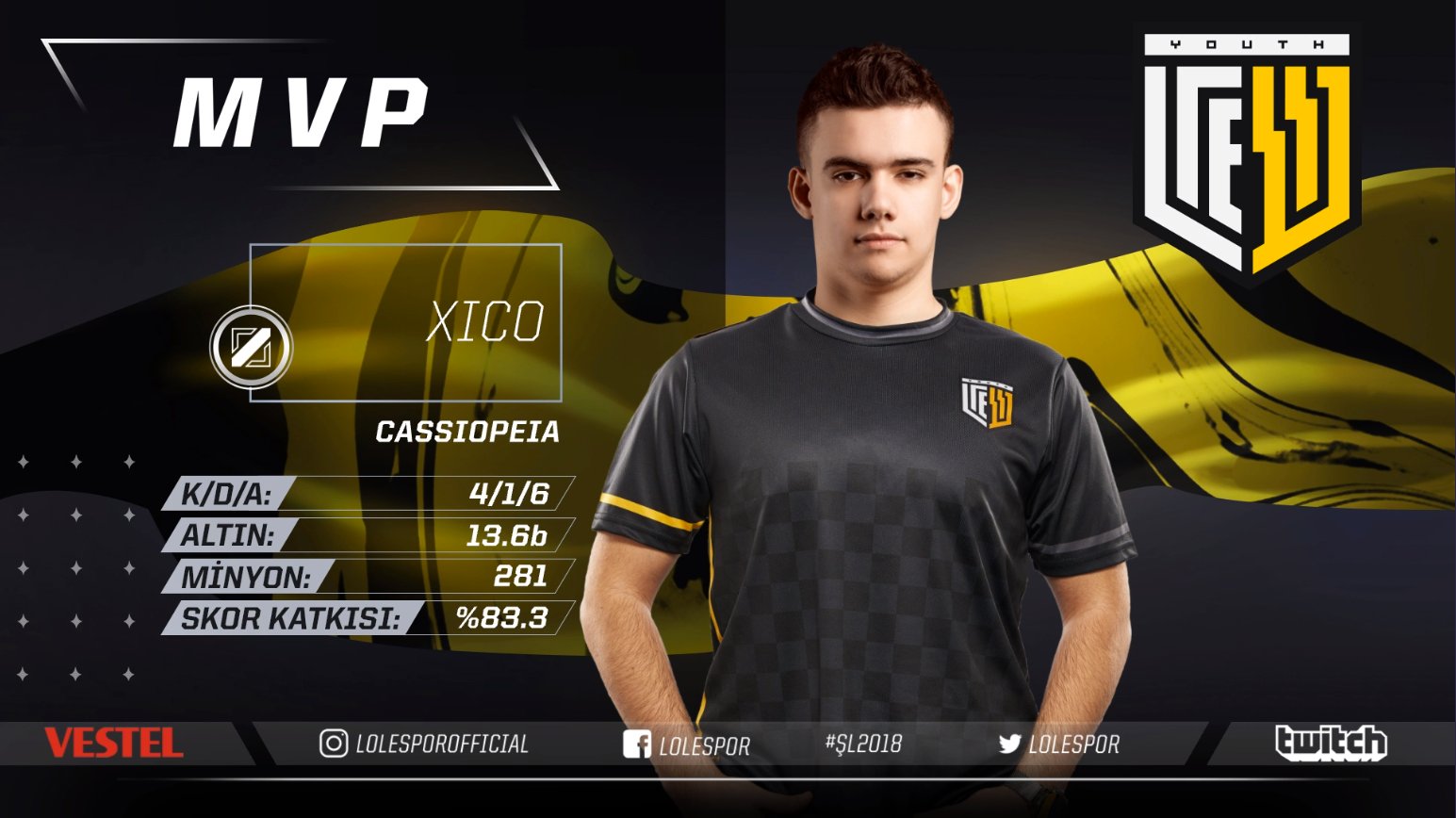 Woah, are those wins I see? In seriousness though, Youthcrew looked so much better this week, even after they started it on a bad loss to Dark Passage. Their next two games against HWA and Galakticos were absolute stomps from start to end, thanks in part to returning midlaner Xico, who has subbed in for Coco and looke dominating on Cassiopeia and Azir. Apparently communications were at the heart of the teams problems, and with those fixed the team looks set to finally start pushing up the ladder. With matches against Royal Bandits, AURORA, and SuperMassive this week, it'll be a good test to see if they have what it takes to push for playoffs, or if they'll be left rot in relegation.
7. HWA Gaming (+1)
The good news for HWA Gaming: they looked dominating in their wins against Galakticos and Royal Bandits. Armut and friends seem to finally have put the puzzle together for how to pull out wins! The bad news: they got crushed by Youthcrew, who most other observers (excluding myself) had rated lower than them. While both sit at 3-6 on the weeks end, the loss to YC puts HWA up just one spot. If the team keeps improving like they did this week, however, they could soon see themselves shooting up the rankings. This is especially true if they continue to be the kryptonite to Royal Bandits Superman.
8. Galakticos (-3)
Welp that time out of the gutter was short lived. After a hot 2-0 start to the split, Galakticos appears to have frozen solid, having gone 0-7 since then. These losses aren't looking very close either, and the teams mostly rookie background is clearly on display. The team reminds me a lot of the NA team Golden Guardians, with the same issues of weak lanes and lack of good macro. The difference though is that Galakticos is full of rookies, and has actually gotten some wins this split. The org needs to make some changes, mostly bringing in a veteran to guide the rookies, or they'll be staring into the auto-relegation abyss.
The TCL 2018 Winter Split continues this Saturday, February 10rd. Be sure to stay tuned here for all the exciting coverage, and check out The Game Haus on Twitter and Facebook for more esports news. Don't forget to also follow myself on Twitter for more news on the TCL.
~Isaac "Raptearer' Chandler