Week two of the LCK established what teams are willing to do for victory. SKT pulled out their first win, KT Rolster upset Gen.G with a 2-0 victory and Griffin's utter domination. Who were the stars of week two? Are ADCs back in the meta?
End of Week Two LCK Standings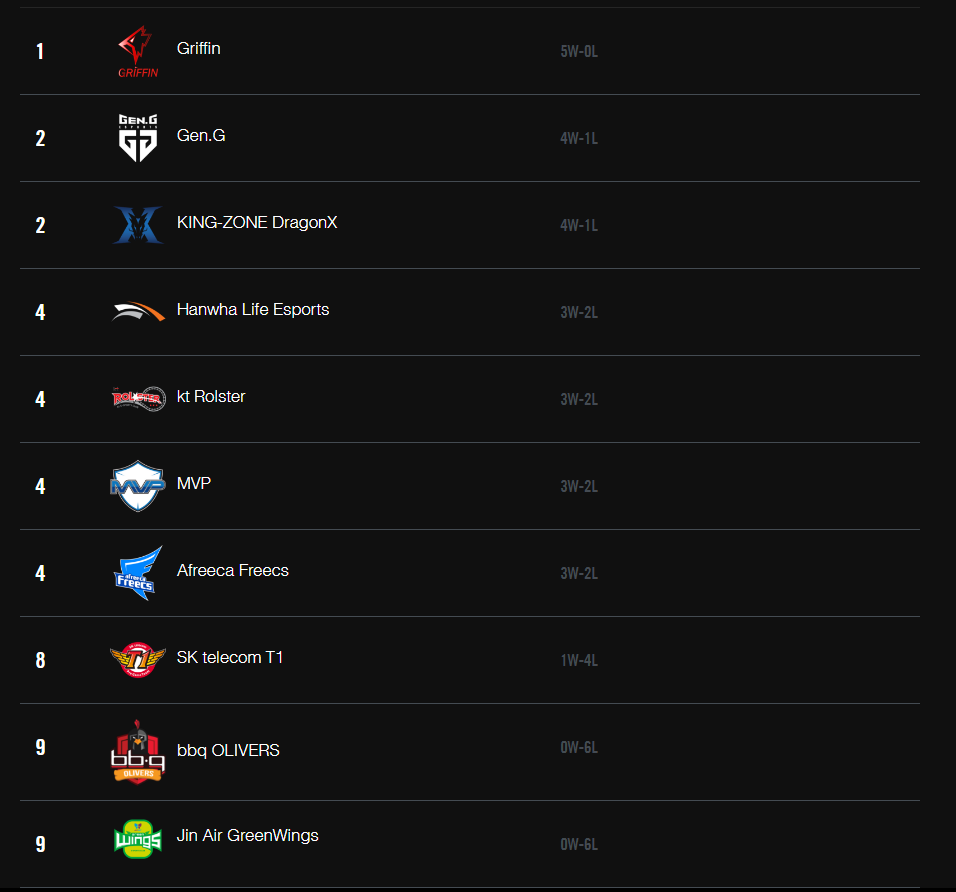 Griffin is currently the only team to remain undefeated, looking extremely powerful this split. Gen.G lost their first set to kt Rolster, something no one expected to happen. Kingzone went undefeated this week and rose up to tie for 2nd place.
SKT managed to pull out their first victory against Jin Air, a team tied for lowest this split. While not the most important win, SKT has had a difficult set of matches up until now and victory against Jin Air solidifies that the team is not as weak as the community thinks.
SKT and their roster
SKT's first game of the week against MVP shocked viewers with an entire roster change to the other five members of SKT. The typical NA viewer forgets that 10-man rosters are becoming popular in Korea, with Afreeca being the first time to bring in a consistent 10-man team. Pair the drastic meta shift and the stumble of SKT last season and running a new team makes a lot of sense.

However, after securing one win in the set, SKT lost the next two games. The team seemed lost, and Beomchan "Blossom" Park had hardly any impact from the jungle. Kkoma is a widely respected coach, and while decisions appear sudden and pointless, there is justification from inside the team.
In the second-to-last set of the week, SKT won 2-0 against Jin Air. Faker played to his strengths and managed to preform on champs that didn't involve the gold-funneling strategy of Master Yi and Taric. SKT ran almost the traditional roster, with Sangho "Effort" Lee replacing Jaewan "Wolf" Lee on support.
Griffin's success this summer
Looking at the topside of the standings, Griffin is preforming to the highest standards in this meta. Korea is playing with the potential of new bot lane combinations more than any other region. If you watch NA or EU LCS, the most successful teams are still playing marksmen almost exclusively bot lane.
However, Griffin is consistently playing mages, marksmen and bruisers bot lane and winning games. They also run gold funneling strategies centered around mid and jungle. Their top laner, Sword, is consistently even or winning in lane. The team even has two mid laners who are swapped out often, with diverse champion pools on both players.
Heading into Week Three
As next week begins, it is important to keep in mind the length and number of games in the LCK splits. Eight weeks with constant playing means time for improvement, adaptation and strategy. Early season results are important but teams have changed in the past.
It is expected that Griffin and Gen.G stay close to the top, but the rest of the teams have the potential to switch places at any time. Keep up to date with more LCK wrap-ups to get the run down of the week!
Featured Image courtesy of Riot Games.
For more esports news and coverage, follow The Game Haus on Facebook and Twitter. If you would like to keep up with my posts or myself, come check out my twitter:@DmitriyKizhikin.