In Week 2 of the 2020 LCS Spring Split, Evil Geniuses sat at the bottom of the league with a 1-3 record. That week, assistant coach Connor "Artemis" Doyle claimed:

"It's still extremely early for what we see as an eight or nine month process. But I think we'll see. There's already a few different pieces moving together right now, so I think that by the middle of the split, we'll see."
Now, with just one game remaining, the Evil Geniuses are tied for third place and have a guaranteed spot in the playoffs. Despite the recent loss to league-leaders Cloud9, the Evil Geniuses have been able to turn around their split in a dynamic fashion— even boasting a 5-game win streak prior to week 9.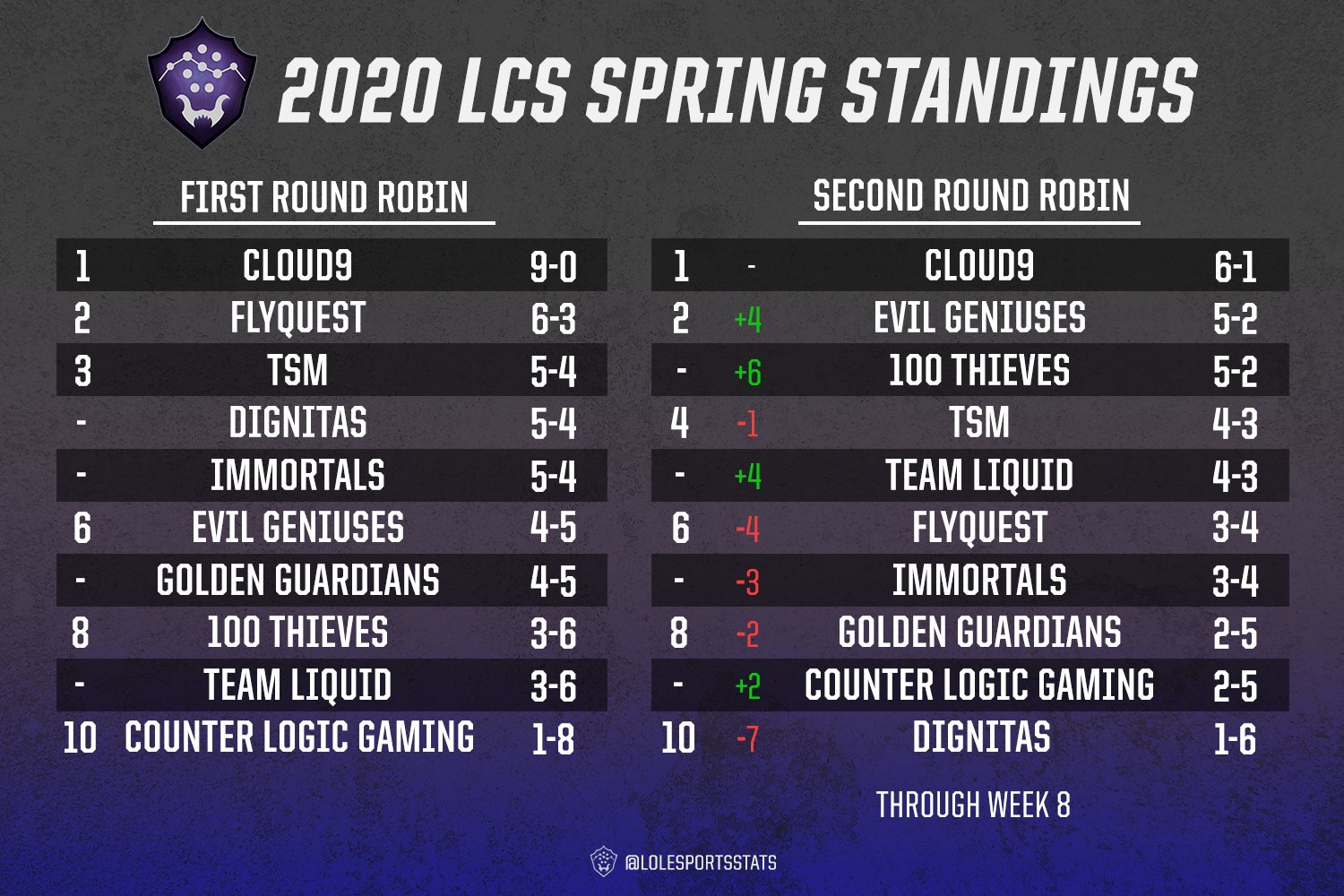 One prominent factor to the LCS team's success is none other than star mid-laner Daniele "Jiizuke" Di Mauro. 
Recently recovering from an abysmal season in Europe, Jiizuke's announcement and performance in the early weeks were deeply questioned. It seemed as though the rest of the Evil Geniuses simply couldn't keep up with his aggressive playstyle. However, both he the team made steady improvements with each match, and Jiizuke earned the LCS Player of the Week Award in week 8. It's no doubt that he's one of the most important factors to the team's newfound success.
Congratulations to @JiizukeLoL of @EvilGeniuses on winning the @MastercardNexus Player of the Week for week eight of the 2020 #LCS Spring Split! pic.twitter.com/uxrjX6ZGm2

— LCS (@LCSOfficial) March 23, 2020
The Evil Geniuses' LCS General Manager Andy Barton was a part of bringing Jiizuke onto the team. He explains,
"I really didn't discount his last season, not even a little bit. I've seen Jiizuke at his peaks and his lows, and when you have a player like that, it's really special. Because if you can get him at his peak and push him to that level, it's really going to help the team out and create a massive pressure point in the mid lane, which is something we've seen. That's something our team definitely needed when constructing this roster and figuring out how we want to play the game with this roster specifically."
EG didn't look like a cohesive unit at the beginning of the split, but they definitely look like a top contender now. That being said, there are still hurdles to overcome— one including the seemingly unassailable COVID-19, a pandemic that has been ravaging all aspects of the esports industry.
Fuck you corona

— EG Bang 배준식 (@Bang) March 14, 2020
Even though some players desire to return to their home countries or even wish to cancel the rest of the Spring Split altogether, the Evil Geniuses are committed as an organization to continue providing their players with the resources they need. Andrew Barton continues, 
"EG has been very good about making sure our players are 100% good to go when it comes to playing from home. It's a different dynamic, and it's important that we are able to replicate a little bit of what the guys are used to, from practice and on-stage, and we try to bring that to their home. Obviously, it's not as easy as it sounds, but we're just doing our best to make sure the players are good to go every day for scrims and on-stage."
For the most part, the EG system has been working well. They've clearly grown as a team from their conception until now, and the roster is firing on all cylinders heading into the franchise's first-ever LCS playoffs appearance. The organization has successfully defended its statement to beat Team Liquid and has yet to lock themselves out from the ambitious goals that they have set. 
"You know, I told our players, really, it's sad when you see other teams say 'our goal is playoffs,'"
Barton remarks. "That'll never be just a goal for Evil Geniuses. Our goal is to win the split, go to Worlds, and show that NA can be competitive. That's going to be a goal for us this year, for sure. And so you'll definitely see us in Summer Split, continuing to ramp up, and grow together as a team through different play styles. Just as a collective unit, we will always be striving to get better."
Evil Geniuses (9-8) close out their 2020 Spring Split season on March 30th, 2020 against Immortals (8-9). You can tune in on https://watch.lolesports.com/.
Feature image courtesy of Evil Geniuses.
Follow The Game Haus for more sports and esports coverage:
Twitter: TGH Esports
Facebook: The Game Haus
For more League of Legends and Overwatch League content, check out Steph's Twitter @kdpanthera.
Want to show off how much you like TGH? Check out our merch shop here!
"From Our Haus to Yours"