At the end of 2021, League of Legends and Riot Games announced that the last two champions that were supposed to come out would be delayed to 2022. With this announcement, they also revealed the next champion would eventually be Zeri and Renata Glasc. The next would be the first Void champion in some time and she made quite the impression from the leaks. Now with Bel'Veth on her way, many will be looking for her skins. Here is a look at the BelVeth skins.
[Related: What is the Bel'Veth Release Date for League of Legends?]
---
Bel'Veth Base Skin
Battle Boss Bel'Veth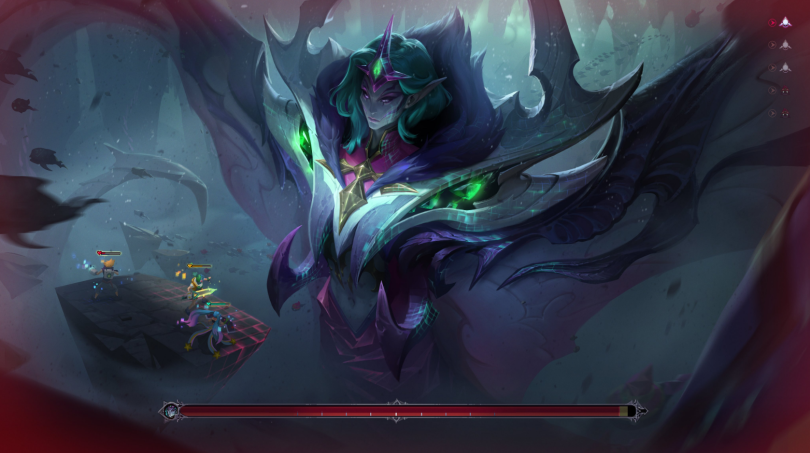 Fans have not seen a Battle Boss or Arcade skin in quite some time. There is no doubt that with the Empress of the Void joining the game that she wouldn't be, well the final boss. This skin fits her aesthetic well and certainly fits into that Arcade and Battle Boss universe. Even in the picture, one can see the Arcade skins attempting to battle her.
---
Extra Bel'Veth Information
Bel'Veth is the latest jungler in League of Legends, and it appears as though she has plenty of tools to be an excellent threat on the Rift. With an ultimate that appears to greatly enhance her abilities, Bel'Veth might be the next power-pick for junglers across all ranks.
First up is what appears to be a dash-type move. Bel'Veth looks like she is able to dash through enemies multiple times in a row. There is a small indicator on Bel'Veth's health bar that changes based on her dashes. It looks as though she can only dash in diagonals, making it a bit more tricky that a typical movement ability.
Next is seemingly a channel ability, that latches onto one particular enemy. This channel ability halts Bel'Veth in order to keep an enemy tethered within a certain range. There appears to be a circle around Bel'Veth as she uses the ability, potentially indicating that the locked enemy can only move in a certain area.
Her last basic ability looks like a knock-up. As a jungler, it is vitally important to be able to lock down targets with crowd control abilities, and it looks like Bel'Veth is jammed pack with skills to impair enemy movement.
Last is her ultimate ability, which looks like she transforms into her true form. In this form it looks like she doesn't do much differently, however her ability looked to be buffed in some way.
---
Stay Connected
You can read more stories like "BelVeth Skins" and you can 'Like' The Game Haus on Facebook and 'Follow' us on Twitter for more sports and esports articles from other great TGH writers along with Robert!
"From Our Haus to Yours"