The 2019 NBA Draft will be a great event for teams to start building for their future. The Game Haus will be doing scouting reports on some of the top prospects in the 2019 NBA Draft. Virginia forward De'Andre Hunter helped the Cavaliers win a National Championship and is now a top NBA Draft prospect.
Background
Position: Forward
Class: Sophomore
2018-2019 stats:  15.2 points per game, 5.1 rebounds per game, 2.0 assists per game, 0.6 steals per game, 0.6 blocks per game, 52% field goal, 43.8% 3 point
Size: 6-foot-7, 225
Hunter was at Virginia for two seasons, but really blossomed into a great player as a sophomore. Through his great play and physical attributes, Hunter is now thought to be one of the best players in the 2019 NBA Draft class.
He came off the bench as a freshman for Virginia and averaged 9.2 points per game. His play helped Virginia be the top seed in the 2018 NCAA Tournament, but they were upset by UMBC in the first round. Hunter was unable to play in that game due to injury and could have helped the team avoid disaster. He decided to come back for his sophomore season at Virginia and helped the team redeem themselves with a National Championship. As a sophomore, he was an All-ACC team member and was the ACC Defensive Player of the Year.
There isn't much more that a player can accomplish at the college level that Hunter hasn't been able to do. Now, he will likely be a lottery pick in the 2019 NBA Draft.
Strengths
His defensive ability is Hunter's greatest strength as he was the best defensive player in the ACC this season. He is great in on-ball defense, as he has decent quickness and good length. Shooters will have a hard time breaking away from him and getting shots over his long arms. Hunter also understands team defense as a member of a great Virginia team defense.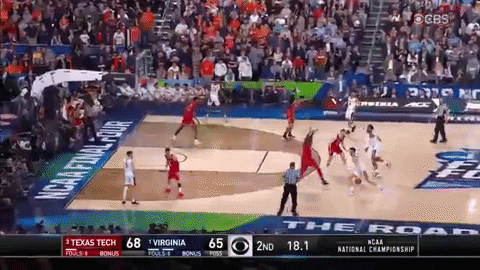 Hunter also hits threes at a high rate, as he hit just under 42% of his shots from deep in his career at Virginia. He also took a good amount of threes, at 3.8 per game as a sophomore, which gives him a good sample size. With his ability to defend and shoot, at the very least he can be a very good "three and D" player in the NBA.
On offense, Hunter plays well without the ball in his hands. He cuts hard and is a good slasher. Hunter can be used to run around screens and lose his defender. His ability to make defenders chase him should open up the floor for the rest of his teammates in the NBA.
Weaknesses
Hunter is not the best ball handler, which will limit his ability to create his own shot. While he can usually drive on bigger defenders some of the most athletic players in the world will be guarding him next season at the small forward position. He may need to have shots that are set up for him, but if he is isolated it will be tougher for him to score.
He needs his shot set up for him, but he is also not aggressive on offense. Hunter showed the ability to drive to the basket at a decent level in college, although he didn't always do that despite the fact that he was a mismatch. He also passed up open shots a lot at Virginia, which could lead to some bad habits in the NBA.
Although his on-ball and team defense are both great, he doesn't make a lot of impactful plays on defense. He averaged less than a steal and a block per game at Virginia. Hunter was often matched up against players that were bigger than him, but lacked his athleticism or players who were smaller than him. Both of which present opportunities to make impact plays, but he didn't do it often in college.
Projected Draft Range: Top 10 Pick
You can like The Game Haus on Facebook and follow us on Twitter for more sports and esports articles from great TGH writers!