We are just under three weeks away from the 2019 Pokemon World Championships in Washington D.C. While official competition has ceased ever since the climactic international showdown in Columbus last month, the community has taken upon itself to hold their own tournaments to not only prepare for the event, but to also give out some great prizes.
While the results of these two tournaments may not be the most indicative of a potential World Championship metagame, what did well gives an insightful look at what players think the best teams are and what competitors should be preparing for.
Mt. Silver Circuit Invitational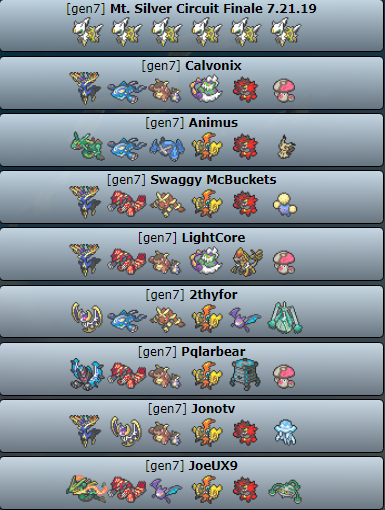 The Mt. Silver Discord server is one of the largest communities in the Pokemon VGC scene. This year, the server organized their very own tournament circuit, awarding points towards qualification for their end-of-the-season invitational tournament. A player that goes by the name "Calvonix" took the tournament over day two World Championship qualifier "Animus" in an intense three-game set that pitted two very different Kyogre teams against each other.
Here are some other potential takeaways:
Kyogre Wins the Primal Clash
Both Kyogre and Groudon saw nearly equal usage in this Top 8; however, Kyogre came out on top. What's interesting is that both Primal Pokemon had three unique restricted Pokemon partners, Mega Rayquaza and Xerneas being in common between the two. The difference was either Lunala for Primal Kyogre and Necrozma-Dawn-Wings for Primal Groudon.
This variety shows that there are a lot of different, viable restricted Pokemon pairs and team archetypes in the current metagame. Some teams may use similar pieces, but the way they play and maneuver each piece can vary drastically.
Lotta Love for Tapu Koko

Tapu Koko was the only Island Guardian present in this Top 8, and was present on six out of the eight teams. Tapu Koko looks to be the most popular choice for a Guardian of Alola going into the World Championships as its power and versatility are unlike a majority of Pokemon in the current metagame. There are supportive sets like the Assault Vest variant or ones that focus on straight-up offense using either the Fairium or Electrium Z. Speaking of offense, Tapu Koko can even mix up its offensive approach by either going physical or special.
That sort of variety existed here and will likely carry over into D.C. next month.
Trying Something New
While players like Animus and Lightcore were able to reach the Top 4 with teams that already have proven their success, it was ultimately a newer type of team that won it all. Primal Kyogre and Xerneas are no strangers to the top of tournament standings, but seeing them together is something we haven't seen since the Moon Series. Tornadus is one of the most trending Pokemon in the metagame right now, but perhaps instead of using it alongside its common partners like Primal Groudon and Xerneas, players can make it work elsewhere. With that being said, Primal Groudon and Xerneas can still be made into an interesting, non-standard team with a perfect example being Swaggy McBuckets' Mega Lopunny and Jumpluff squad.
The World Championships are a breeding ground for innovative teams and strategies which usually end up doing well or even winning the whole thing.
Zelda's World Championship Challenge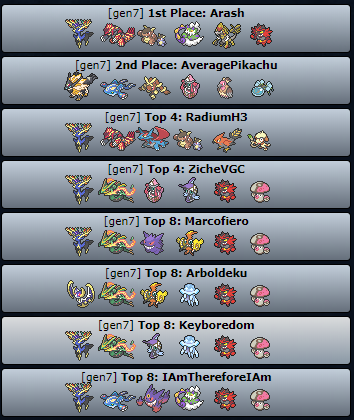 The "Zelda Challenge" tournaments, hosted by Australian player Sam Pandelis, have been great opportunities to not only practice for international tournaments, but to also raise money for players to travel to them. This most recent tournament, in preparation for the World Championships, had close to a $900 prize pool, and was able to give a nice sum of that to the winner.
If it Ain't Broke, Maybe Fix It
Remember that whole spiel about "creative and innovative teams being the best"? Yeah, sometimes the reliable strategies can work just fine too. Arash Ommati (the 2013 World Champion) was able to make a miraculous tournament run after starting 0-2 in Swiss to win the entire tournament with just about the most standard team in the current metagame. But on the complete opposite end, AveragePikachu shocked the tournament with one of the most interesting teams we've seen in the Ultra Series. Or you could be like RadiumH3 who managed to get Top 4 with the best team from three years ago.
The point is, both creativity and the standard can work equally well, but it all comes down to the player. Ommati managed to win this tournament with a standard team since he's one of the best players in the world, and AveragePikachu got as far as he did with his off-meta team since he played amazingly throughout the entire tournament. For those playing at the World Championships, the best team to play is the one that works best for you and allows you to play the best you can.
Xerneas Will Always Be Good

The Geomancy-sweeping machine that is Xerneas has shown zero signs of slowing down going into the last legs of Ultra Series. Even though its main partner-in-crime will always be Primal Groudon, Xerneas has continued to find valuable partners with the newest being its old Moon Series companion, Kyogre.
Mega Rayquaza was a popular choice as a Xerneas partner for this tournament in particular, and many players using these two chose to stick to safe, standard choices to round out their teams. The pairing of these two powerful restricted Pokemon on their own creates a strong team, allowing this archetype a lot of flexibility in how it can be constructed. It's this kind of versatility that players should be looking for in a potential World Championship team.
---
---
You can like The Game Haus on Facebook and follow us on Twitter for more sports and esports articles from other great TGH writers along with Eric! (@aricbartleti)
Images from Pokemon Ultra Sun and Ultra Moon, Pokken Tournament, Ken Sugimori and The Pokemon Company International