Oh no, not Smeargle again! I thought we got rid of that thing after last season!
*Cue traumatic flashbacks to VGC 2016*
Well Smeargle isn't exactly what you should be scared of. It's the sandcastle that Smeargle is going to help destroy you.
Who's That Pokémon?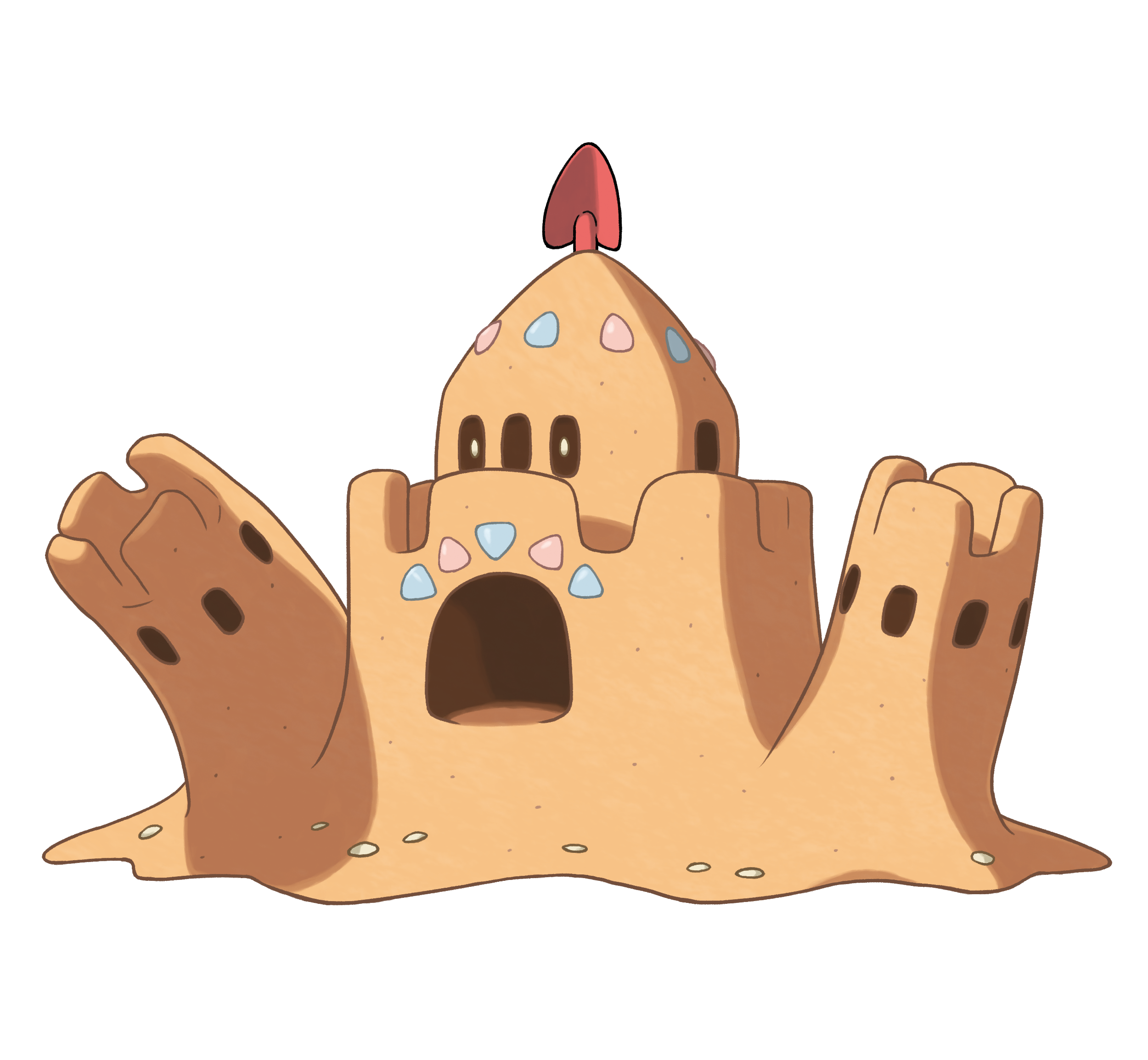 It's Palossand!
Yeah I don't really remember this thing either.
Who thought this Pokémon would ever see play in any competitive format? Palossand is a new Pokémon, courtesy of the seventh generation that has developed a rather interesting strategy that has taken the current meta game by storm. It involves everyone's favorite dog Smeargle, and getting Palossand to unbelievable levels of bulk and strength.
Here's How it Works
The basic strategy involves the combination of Smeargle and Palossand, where Smeargle buffs Palossand and Palossand just has to stay alive long enough to get all of its boosts. Smeargle uses Water Shuriken, a priority Water-type move capable of hitting multiple times, on Palossand which basically deals no damage. This triggers Palossand's ability, Water Compaction, which increases its Defense by one stage every time it is hit with a Water-type attack.
Now here's where it gets fun.
On this team, Palossand will typically hold a Weakness Policy which doubles its Attack and Special Attack stats when hit by Water Shuriken (since Palossand is weak to Water). So now to recap, you should have a Palossand with (ideally) 4+ stages of Defense, doubled Attacking stats, and now double Special Defense after you use Amnesia.
And after all of that, if Palossand took any damage, it can heal pretty much all of it back with its signature recovery move: Shore Up.
Then What?
Now, Smeargle is either gone or continues to support with Wide Guard or Follow Me. When Smeargle finally goes down, the next move is to switch in your Psych Up sweeper and copy all of Palossand's boosts.
Good Game.
What Does the Rest of The Team Look Like?
Really, once you set up Palossand, the rest of the team doesn't matter. But, there are a few ways to support your unstoppable sandcastle.
Tapu of your Choice
Since all of the Tapu Pokémon gain access to Psych Up, the choice of which one to use is completely up to player preference. Tapu Fini may be a popular choice considering how popular it is in the format right now, thanks to its already impressive bulk. Second to Fini would likely be Tapu Koko due to its Speed and capability of sweeping with the increase to its Special Attack.
Espeon
A choice for a Psych Up sweeper seen on a successful Japanese player's version of the team. Espeon gets access to Stored Power, which is a Psychic move that increases in strength for every stat boost on the user. With the added defensive boosts, Espeon could be terrifying to go up against.
Arcanine
The literal "Top Dog" of VGC 2017 seems to find its way onto pretty much every flavor of team out there. Arcanine can deal with the ever-present Kartana, which may cause problems for Palossand since Leaf Blade can easily score a critical hit and wipe out your set-up sandcastle.
Kartana
Speak of the devil. Kartana can deal with Water-types (mainly Tapu Fini) that can hit Palossand pretty hard due to its low Special Defense.
Gigalith
Gigalith is a Pokémon that has been rising up in popularity as of late, and it makes a good teammate for Palossand. Palossand is able to recover even more health with Shore Up since it's boosted by the presence of a sandstorm, which Gigalith can set up for it.
How Do You Beat It?
It shouldn't be too hard to beat this strategy if you follow one or more of these steps:
Get rid of Smeargle (Just watch out for Moody)
Taunt Palossand so it can't use Amnesia or Shore Up (also Taunt is useful for Psych Up users)
Strong Water and Grass-type attacks (Tapu Fini and Kartana work well)
Resistances/Immunities for Palossand's attacks (mainly Earth Power)
Finally, Here Are Some Sample Teams to Try Out!
These teams can be found and scanned using the QR Team feature in the Pokémon Global Link.
Art of Pokemon courtesy of Pokémon and Ken Sugimori unless otherwise credited
You can 'Like' The Game Haus on Facebook and 'Follow' us on Twitter for more sports and esports articles from other great TGH writers along with Eric!