In part two of The Game Haus's exclusive interview with Shock star André "IDDQD" Dahlström, we talked about his top three favorite players, Season 2, and his plans for the World Cup. Enjoy!
Part 1 of the interview can be found here.
Ok, so who is your favorite player in the League, and why is it Seagull?
Ha! Honestly, I don't think people give him enough credit. I think he's one of my top three players in the League right now, and one of the reasons is that I played with him on NRG. I learned quickly that he's one of the most intelligent players in the game. He might not possess the most mechanical skill. He might not have the best raw hitscan aim. What he DOES have is the brain. He's incredibly smart, and he can get away with what he does because he just outsmarts people. That's how he stays alive. That's also why he's such a hot topic with every team, and why he can always find a new team. He's just that intelligent. That makes it so that even if he doesn't play, he has a ton to share with his team to make them smarter. That's what I learned with him.
Who are the other members of that top three? 
I think Ado from the Shanghai Dragons is in there. He deserves an emblem from me. He's been doing so consistently well – he's been a major dealbreaker for the Dragons since he joined the team. Before, Shanghai would just get flat 0-4'd, nothing would happen, the game would be over in like less than ten minutes. Ado came in, and I think that changed completely. He's been a major factor in taking some of these teams to the brink of losing. Even though there's always something – they're one map short, or whatever – I still feel like Ado has been able to consistently perform on that roster regardless.
I think my third is Fleta. Even though the Dynasty hasn't been doing too hot in these past stages, I think Fleta is still the type of player I aspire to be. A guy who literally comes up super calm and always performs. He never gives into the pressure, even when his team is kinda sandbagging a little, you know? Even when his team isn't doing too well, he pulls off some great numbers. I want to be like him. A lot of people will fall or crumble under pressure like that – he doesn't even blink. He just gets up on stage, sits there, and comes right back.
Do you think there will be more even matches in Season 2, with teams figuring things out more and more? 
Absolutely. 100%. Season 1 was a test season, a trial run. Teams were trying new things, figuring out what worked and what didn't. We're a legacy team now. We've done all the hard work, we know what needs to be done, and now the new expansion teams will just follow us. I think a lot of the trial and error that was present in Season 1 will be done with in Season 2. It's going to be harder and more complicated, there will be tougher competition. Teams that just missed a win this season will want it even more. Everyone will be firing on all four cylinders, especially after everyone gets a bit of a break. It'll be a while until we start Season 2 now, so everyone will come back extremely hungry. It's going to be harder than ever.
Speaking of the off-season, got any plans for once all this winds down at last? Are you guys going to take some time off, or is it right back to work?

IDDQD: I have no idea!
Coach Crusty: We're going to take a one month break, since in that time, some players will be trying to get into the World Cup. We're also going to be boot-camping in Korea, having an open contest for players and training as hard as we can there.
The thing is, the Shock's old coach picked a lot of old talent. Their skill and mechanics are always insane, sure, but he just picked a bunch of superstars. They didn't know how to play as a team. Stage 1 wasn't great, Stages 2 and 3 were fine since it was a Tracer meta, where the Tracer could keep the pressure on while the Widow kills who she needs to kill, but in this meta – I think I can say this – I'm confident that if I didn't come to the team in this meta, this team would lose to Dallas. This meta is team-focused, with Brigitte and combo comps like triple tank or Graviton/D.Va bomb. We were really bad at that when I got here.
I was really frustrated with that when I got here, and worked very hard to fix it. We're called the San Francisco Shock for a reason – we just keep shaking it up defensively, which is great. In the offense, though, our biggest problem was executing as one unit. We would always hold at Point A, but we would also never capture Point A because we never played as a team. So now we're going to try very hard to work on that in time for next season.
IDDQD: More sweat, more practice.
And speaking of sweat and practice, it's almost World Cup time. How do you think your team will do this time around?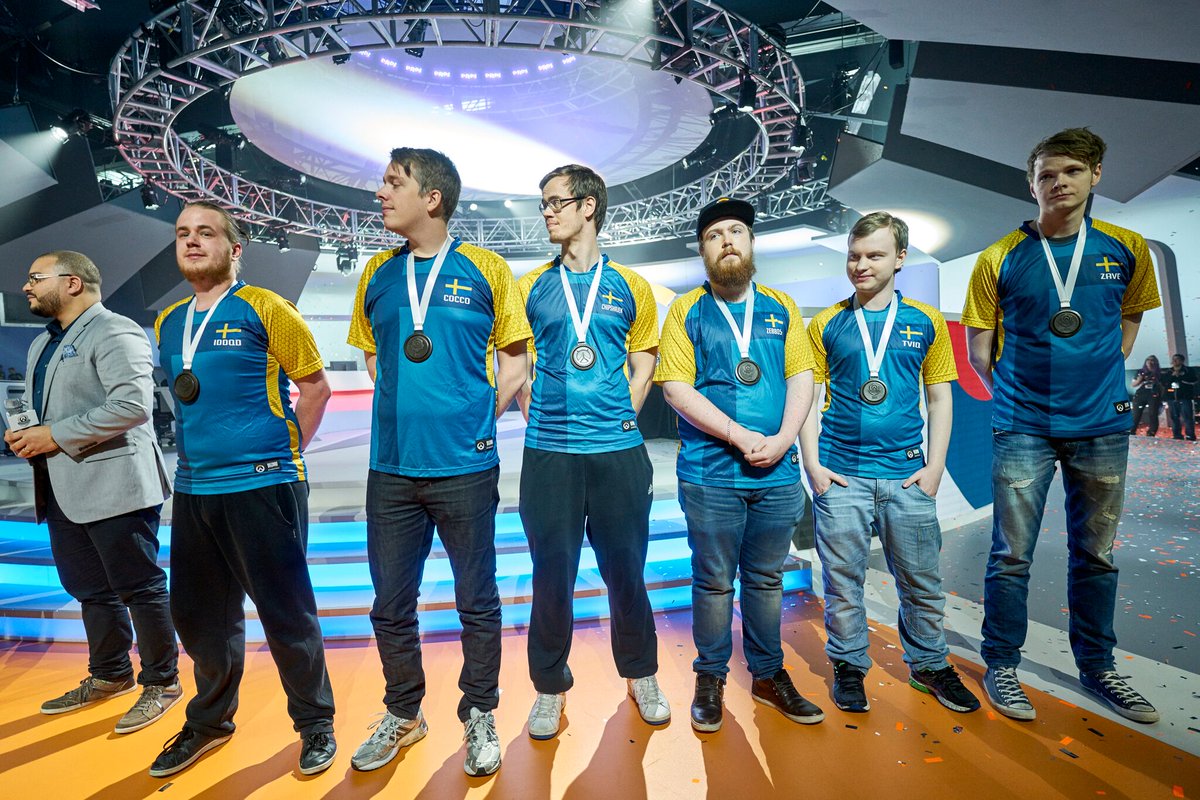 IDDQD: At first, I was a bit scared, given that Mineral (the Misfits/Mayhem coach) has a team with a lot of Swedes on it already, but he's shown zero bias towards anyone so far. He has a very fair system in place, and I think it's so excellent because it gives everyone a chance at a spot. It's quite interesting, really, because at first I was like "How is he supposed to find 12 people?" and then I turned around and he had scooped up 40 Swedish players that were ready to go for trials. We start on Monday [June 19th]. I think – and I hope! – that the team he decides to create can go far. Obviously, South Korea is the team to beat, as always, but Sweden has made top three both years too – one with me on stage, one with me as a coach. [To Crusty] I coached Team Sweden last year, by the way!
Coach Crusty: Oh, really?
IDDQD: Mhm, and we made third place. I think this year is our year for #1, definitely. We're not gonna let any other nation slip by – now's our chance to do the best we can do.
Part 3 of this interview is right around the corner! Stay tuned for more updates.
From Our Haus to Yours!
STAY UP TO DATE
Follow me on Twitter @thibbledork! Come ask me questions, or tell me how I'm doing! 
You can also message me on Discord! (thibbledork#0282)
Featured Photo Courtesy of the Dallas Fuel
Follow The Game Haus for more esports and sports stories!!
Twitter: TGH Esports
Facebook: The Game Haus