With the North American International Championships just two weeks away, many players are scrambling to find the winning team. For a tournament that is sure to be in a tier of worlds-caliber difficulty, a "standard" team might not be ideal.
Unpredictability is key for a tournament this late into a format. Bringing just one Pokemon that many teams aren't prepared for could be huge for making a deep tournament run. Here are five Pokemon that could be great metagame calls for the final International Championship of the 2017 season.
1. Tapu Bulu
Despite being the format's least popular Island Guardian, Tapu Bulu has shown that it's a force to be reckoned with. Winning two of the last four North American Regionals, Tapu Bulu is surely capable of making a deep run in Indy.
I've talked a lot about Tapu Bulu already, but it's worth repeating some of Tapu Bulu's main strengths. Grassy Terrain is an amazing field effect that not only boosts Tapu Bulu's Grass-type attacks but also adds bulk to its teammates through the gradual HP gain.
Since Tapu Bulu is slower than most other Tapu Pokemon, Tapu Bulu is likely going to have the terrain advantage. Strong, physical Grass-type attacks are difficult for most Pokemon to take in this format, and with Tapu Bulu you're always threatening huge damage.
Tapu Bulu has great synergy with both common and slightly less common Pokemon. Being able to set up Grassy Terrain covers one of the format's most common weaknesses, in Ground, by halving the damage of Earthquake and Bulldoze.
While Tapu Bulu itself doesn't have the greatest defensive-typing, teammates like Arcanine, Pheromosa, Nihilego and even Mudsdale can threaten many of Tapu Bulu's scary match ups.
Power, diverse team builds and Grassy Terrain all make Tapu Bulu a great choice for a team right now. With its recent success, I wouldn't be surprised to see one or more break into Indy's Top Cut.
2. Alolan Muk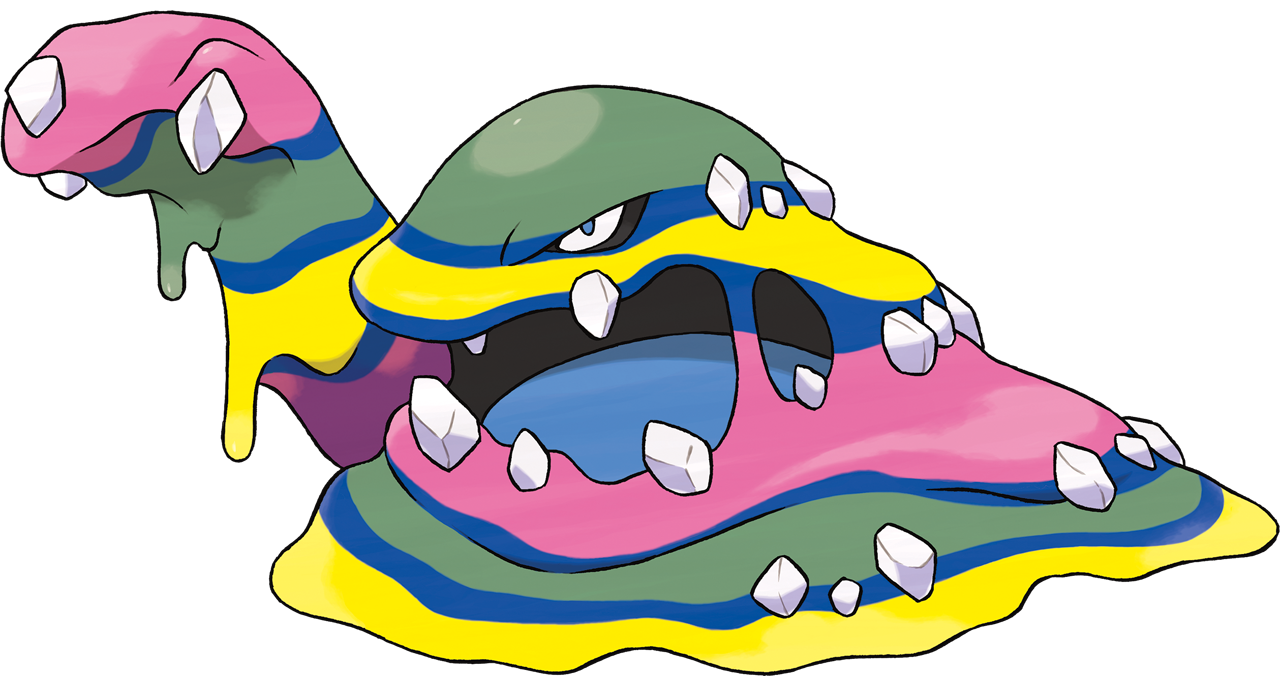 Speaking of Tapu Bulu's scary match ups, Alolan Muk is a scary Pokemon that every Tapu hates going against. One of the prime users of the Gluttony ability, Alolan Muk can take hits and also dish out valuable Poison and Dark-type damage.
Alolan Muk being one of the few viable Pokemon in the format with access to Knock Off makes it very useful. In a format dominated by the "pinch berries," being able to Knock Off a berry from an Arcanine or a Snorlax can put your opponent in a pretty rough spot.
Knock Off and a Poison-type move are staple, but Muk surprisingly has a lot of flexibility in its third move slot. There are support options like Taunt or Imprison and tons of offensive ones like Gunk Shot, Flamethrower and Curse.
If Alolan Muk is a Pokemon that interests you, make sure you have an answer for Garchomp. Without a strong Ground-type move to hit it, Alolan Muk becomes a huge problem for most teams to deal with. However, its Dark-typing has made strong Fighting-type moves from Buzzwole or Pheromosa serve as fine answers to it.
3. Metagross
One of the format's lesser used Steel-types, but still a strong choice. Metagross doesn't quite have the speed of Kartana or the bulk of Celesteela, but its great typing and offensive power make it quite threatening.
The reason why Metagross is on this list is because it seems like a great metagame call. Metagross can hard counter Pokemon like Nihilego, Tapu Lele and even Gigalith (as long as it doesn't have Earthquake). Plus, if paired with Tapu Lele, Psychic Terrain-boosted Zen Headbutt does a ton of damage to targets that don't resist it.
Meteor Mash and Bullet Punch are great Steel-type attacks for Metagross, helping give it a priority option and even a pseudo-Beast Boost with Meteor Mash's chance to boost Metagross' attack.
Metagross looks solid on paper, but its main weaknesses in low speed and shaky accuracy can make it difficult to use. However, with a great team to support it, Metagross can easily turn into a major threat.
4. Buzzwole
Buzzwole's weak defensive typing and low speed can make it a bit tricky to build around, but it can turn into a monster with its offense. Coming off of a regional victory in Birmingham, Buzzwole has once again cemented itself in the realm of relevant threats. Its monstrous attack, insanely diverse move pool and its ability, Beast Boost, give it the power to run through unprepared teams.
We've usually seen Buzzwole as a member of teams with a Tailwind mode, with notable examples being Rachel Annand's Driflblim team and Tommy Cooleen's rain team with Pelipper. Buzzwole's ability to fire off strong, STAB Superpowers into Pokemon like Porygon2, Gigalith and Snorlax make it a popular check to common Trick Room modes.
With a Beast Boost, Buzzwole can easily use the rest of its moves like Poison Jab and Ice Punch to finish off other popular team members like a Tapu or Garchomp.
The main draw of Buzzwole is that immense Fighting-type damage with either Superpower or possibly an All-Out-Pummeling. We're likely to see a lot of Porygon2 and Gigalith in Indy, and what better way to deal with that pair than a giant flexing mosquito. Plus the crowd is sure to go wild if they see Buzzwole flex its way onto the big screen.
5. Milotic
The last, and arguably the most underrated Pokemon on this list, is none other than Milotic. Milotic has seen usage here and there, but has never had a break out performance. The reason I'm listing it here is that the Intimidate ability is everywhere in VGC, and Milotic is one of the best Pokemon to punish it.
Competitive is an ability that doubles Milotic's Special Attack if one of its stats are decreased. Intimidate has always been around, but with the rising popularity of Gyarados and teams with multiple Intimidate users, Milotic is looking a lot better. Not to mention, most of the Intimidate users, barring Gyarados, are weak to the combination of Water and Ice-type attacks that Milotic often carries.
While Competitive is an amazing ability, Milotic can also function as a standard, defensive Water-type without the boost. Having access to Toxic and Recover makes Milotic a solid defensive Pokemon that's able to win slow endgames. But if you're looking to go more offensive, the Adrenaline Orb can pair well with the Competitive boost as the lowering of Milotic's stats will allow the Adrenaline Orb to boost Milotic's speed as well.
A bulky Water-type that can turn into a huge offensive threat, Milotic can be quite an annoying Pokemon to deal with. If you're looking for a non-conventional Water-type member for your Fire-Water-Grass core, Milotic could be the one.
Only Scratching The Surface
This is only a short list to potentially generate some ideas for those of you making the trip to Indianapolis later this month. There are still a bunch of other underused, underrated and flat out weird Pokemon that have potential to go far in this penultimate tournament for the 2017 season. We'll just have to see which unorthodox strategy or Pokemon choice topples the metagame in just a couple more weeks.
---
You can 'Like' The Game Haus on Facebook and 'Follow' us on Twitter for more sports and esports articles from other great TGH writers along with Eric!
Images from Pokemon, Ken Sugimori and The Pokemon Company International