One of the most beloved veteran players in the Pokemon VGC community, Aaron "Cybertron" Zheng, recently announced that he will be taking a break from seriously competing for the foreseeable future. Zheng, who recently had a disappointing performance at this year's World Championships, announced in a new video that his focus is shifting away from competing in tournaments in order to help grow the scene with his YouTube content as well as reclaiming his spot on the official Pokemon VGC commentary team.
There are many reasons Zheng lists in his twenty eight minute update video, which this article is not meant to replace. Zheng brings up some interesting points that I'd like to touch on from an outside perspective, and I encourage all of you to watch his video before reading this.
The Fire's Gone
One of the first points Zheng brings up is his recent runs at the North American International and World Championships. In Indianapolis, Zheng started out 5-1 on the first day of Swiss only to drop two of his last three games, knocking him out of Day 2 contention. At Worlds, Zheng's run ended much more prematurely, dropping to a 1-3 record, eliminating him very early on.
It was these recent performances, plus the overall lack of preparation, that Zheng did not prioritize among his summer internship as well as spending time with his friends and family. Zheng called this year's Worlds the "worst tournament he's ever played" and despite having a capable team, his play just didn't cut it.
Zheng eventually came to a realization that he just didn't feel motivated to keep playing in tournaments. Whether or not he did well, Zheng claims that bad performances made him feel bad while wins left him wondering if this time or money could've been spent better.
I've noticed that many players, either those I've met in person or those I follow on social media, seem to express this "burnt out" mentality, especially after negative results. It sort of begs the question "is Pokemon a rewarding enough game?". Some players are just tired of losing to factors outside of their control or simply just playing badly, and these things seem to take a much bigger toll even on players who have only been competing for a couple of years.
This ties into Zheng's next point regarding priorities.
Just a Hobby
For Zheng, Pokemon has always been a hobby and not something that he's considered doing as a career. Zheng explains that his internship, social commitments and now his rigorous academic schedule are taking priority over his competitive Pokemon career. And that's completely fair.
I think we can all admit Pokemon is not quite at the esport level yet, and a majority of players do not treat it as such. Prize payouts aren't nearly as high as compared to other big esports, plus the YouTube and Twitch presence for Pokemon VGC players isn't very popular when compared to other Pokemon content.
Zheng wants more than anything to be involved with the scene, but he's never wanted to feel stressed out about it by making it feel like a job. Being a contender requires heavy time as well as financial commitments in some cases, and right now, the competitive circuit doesn't quite support that.
As of now, playing in tournaments for a Worlds invite isn't a part of the plan for Zheng. Shifting focus to commentary and content creation feels much more rewarding as by commentating, Zheng will still be able to attend events while his video content will allow more people to get into the game competitively.
Many players likely share Zheng's attitude, but perhaps if the scene is able to grow through a collective emphasis on content creation, there's a chance that this game could become a lot more.
Aaron "Commentator" Zheng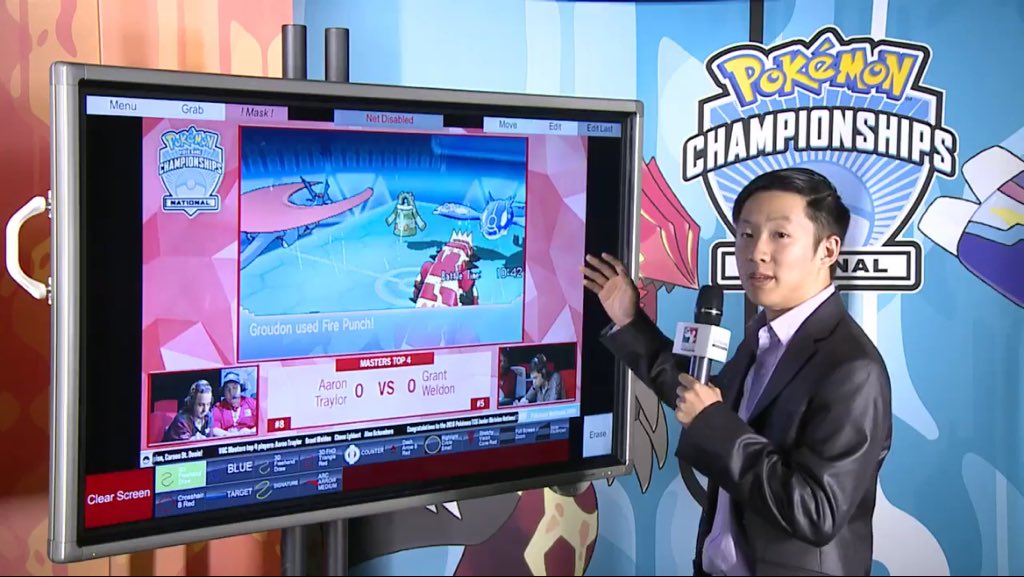 It seems that Zheng's main focus right now is his platform, and he's looking to grow it by stepping up his content creation and rejoining the official commentary team. Zheng will no doubt be offered a spot back, considering he commentated both United States Nationals and Worlds in 2016. His likable personality, as well as his insight, make him both a great play-by-play and analysis commentator, allowing him to potentially fulfill both roles. He also has great chemistry with the cast, sharing the booth with long-time friends Evan Latt, Ray Rizzo and Duy Ha.
On the video and streaming side, Aaron has a good number of subscribers and even a subscribe button on Twitch. Zheng is looking to bring back more content outside of Road to Ranked like his series "The National Gymquirer" which can be a great way to introduce newer players to Pokemon VGC tips and news.
By stepping away from competing, Zheng might be able to do something great for the scene. His large following coupled with his friendships with other YouTubers will no doubt lead his channel to growth if he ends up putting in the work. He's already received a ton of positive feedback on his decision, and his fans are just happy to see him doing what he wants. Call him "washed up" all you want, but there's no guarantee 2017 will be his final World Championships if he decides to come back.
His patented intro "Hey guys! Aaron "Cybertron Zheng here!" will continue to be heard by his fans, but will hopefully be heard by newer fans that may consider giving Pokemon VGC a shot.
On behalf of his fanbase, they'll miss you competing, but they'll always be grateful for what you've done and will continue for the scene. As someone who wants nothing more but for the scene to grow, I wish him the best of luck.
Thanks for reading!
---
You can like The Game Haus on Facebook and follow us on Twitter for more sports and esports articles from other great TGH writers along with Eric! (@aricbartleti)
Images from @CybertronVGC on Twitter and The Pokemon Company International
To continue enjoying great content from your favorite writers, please contribute to our Patreon account! Every little bit counts. We greatly appreciate all of your amazing support! #TGHPatreon