The most recent Pokemon Direct, dedicated to the upcoming Pokemon Sword and Shield, had a bunch of new information about the next generation of Pokemon games. From new Pokemon, characters to new snippets of the Galar region, this reveal had a lot of fans excited. But, one of the biggest reveals would have to be the new mechanic unique to the Galar region known as "Dynamax."
Dynamaxing allows Pokemon to grow to a massive size, giving them a boost in power for a limited amount of time. In this state, Pokemon aren't only given a strength boost but access to more powerful moves exclusive to to Dynamaxed Pokemon. We don't know everything about this mechanic yet, but there are some points of speculation as to how this could impact competitive play. Here is a look at everything known so far about the Dynamax phenomenon, and how its features could impact competitive battling.
Every(?) Pokemon Can Dynamax?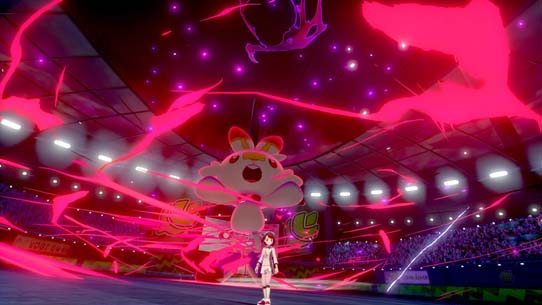 Due to the sheer variety of Pokemon we've seen in trailers and screenshots in Dyanamaxed form, it's safe to assume that most (if not all) Pokemon will be able to Dynamax. Even though screenshots have shown big and small, strong and weak Pokemon in huge Dynamax form, this feature will likely be reserved for the strongest of the strong in competitive battles. The question is, will this power boost for some of the game's most powerful attackers be too much for the metagame to handle?
Also, we don't quite know whether Dynamaxing will require a Pokemon to hold an item. A player will need the Dynamax band in order to Dynamax their Pokemon, but it's currently unknown if there is an item a Pokemon will need to hold. This is a major point when considering the potential interactions with Z Crystals and Mega Stones. Could you imagine a Dynamaxed Mega Rayquaza? Yeah, something tells me the potential of Dynamaxed Mega Pokemon or Dynamax plus Z Moves means this mechanic will be item restricted.
The Power Boost and Max Moves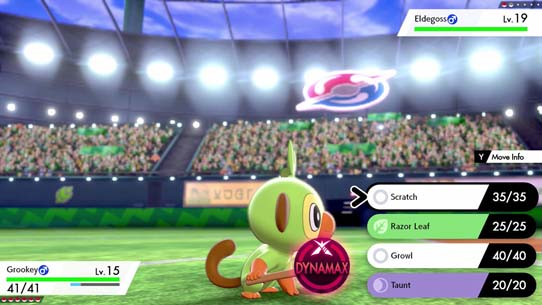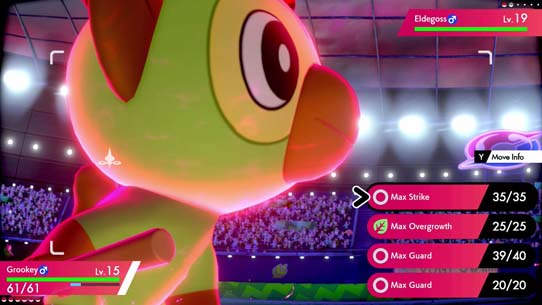 Since we don't have our hands on the games yet, there's no way to determine how big the Dynamax power boost actually is. However, a screenshot on the Pokemon Sword and Shield website shows a Grookey's HP bar before and after Dynamaxing. The original Grookey has 41 HP while Dynamaxed Grookey has 61 HP, showing that the boost also affects the HP stat (unlike a Mega Evolution or another form of stat raising). That's roughly a 50% boost which has the potential to be applied to all stats. A huge boost is fitting for a huge Pokemon.
This development likely leads to the necessity for Max Moves. Max Moves are moves unique to Dynamaxed Pokemon that are more powerful variations of normal moves. By the looks of it, every single move doesn't have its own Max Move, but rather certain elemental types/move types have their own Max Move variations. Perhaps certain Pokemon will have their own unique Max Moves much like how some Pokemon have their own Z Moves.
What's potentially concerning about these Max Moves is the fact that some of them come with secondary effects. One we know for sure so far is "Max Strike" (presumably a Normal-type attack based off a generic Normal-type attack) which can lower the opponent's speed stat. What's interesting is that the Max Moves don't seem to inherit the secondary effects of the move they're based on.
Also, in the Grookey example, the non-damaging moves like Growl and Taunt both turned into Max Guard which raises some eyebrows in terms of the support potential for Dynamaxing, Granted, the nature of the Dynamax mechanic looks to favor offense, so perhaps support moves have gotten a lesser treatment from this new mechanic.
There's still a ton we have yet to learn about Dynamax and how it will shape the course of the different competitive metagames of the eighth generation. Hopefully the three-turn restriction will limit the broken potential of this new mechanic, and allow for some more creative approaches to battles.
Regardless, Pokemon Sword and Shield are promising even bigger and better battles for the Pokemon series, and this new battle aesthetic should be exciting to watch unfold.
---
---
You can like The Game Haus on Facebook and follow us on Twitter for more sports and esports articles from other great TGH writers along with Eric! (@aricbartleti)
Images from Pokemon Ultra Sun and Ultra Moon, Pokken Tournament, Ken Sugimori and The Pokemon Company International