It is almost halfway through the NFL season, which has given fans and teams alike the notion of where teams are heading. It is never too early to look toward the future, so here is the 2019 NFL mock draft October 19.
1, Arizona Cardinals- Ed Oliver, DT, Houston 
This class has so many good defensive linemen and Ed Oliver may be the best in the class. He does go to a school in the AAC, but that was by choice, as he got recruited by almost everyone. He already has 11.5 tackles for loss on the season and has added two sacks. The Cardinals aren't great on the interior of the defensive line, as Corey Peters is aging and Robert Nkemdiche hasn't lived up to the hype.
2. San Francisco 49ers- Nick Bosa, DE, Ohio State
Bosa has withdrawn from Ohio State to focus on the NFL Draft after suffering a core muscle injury. That may change his stock, but for now, he is one of the most gifted players in the class. He finishes his college career with 29 tackles for loss and 17.5 sacks. The 49ers have just 12 sacks on the season.
3. Oakland Raiders- Clelin Ferrell, DE, Clemson
Ferrell is one of four Clemson defensive linemen who will be drafted in 2019. He already has six sacks this season and has been a consistent pass rusher for the Tigers for years now. Oakland has seven sacks and Jon Gruden has publicly said the team needs a pass rusher…even though he just traded Khalil Mack.
4. New York Giants- Justin Herbert, QB, Oregon
The Giants need to cut ties with Eli Manning and honestly it's past due. They have the playmakers on offense but need to get the ball downfield. Herbert is the best quarterback in the class  He has led Oregon to some big wins and has thrown for 1,613 yards and 17 touchdowns on the year. He is especially good at getting the ball down the field with 10.3 yards per to attempt.
5. Indianapolis Colts- Derrick Brown, DT, Auburn
While Auburn is struggling, their star interior defensive lineman Derrick Brown is not. He is disruptive and has six tackles for loss this season. The Colts have protected Andrew Luck decently this year, but now need to get the defense to a level where they can be competitive.
6. Buffalo Bills- Gregory Little, OT, Ole Miss
The Bills' defense has played well this year and rookie quarterback has even played better than expected, although now he is injured. They need to improve their offensive line, which has been shaky. That happens when you lose three starters from one season to the next. Little is now the unquestioned number one tackle prospect in the class with Trey Adams being out for the rest of the season.
7. Denver Broncos- Jeffery Simmons, DT, Mississippi State
Denver will want a quarterback, but this might be too early for Dwayne Haskins or Drew Lock. They could go best player available with Jeffery Simmons, He will help them, as they have allowed the most yards on the ground through the first six weeks of the season.
8. Atlanta Falcons- Rashan Gary, DE/DT, Michigan
While he hasn't had quite the production of other defensive linemen in this class, Gary is super talented. He often gets double teamed, which allows teammate Chase Winovich to get after the quarterback. He can play multiple positions across the defensive line, something the Falcons desperately need to improve.
9. Tampa Bay Buccaneers- Deandre Baker, CB, Georgia
Baker has been Georgia's number one corner for two seasons and is a threat to take it back to the house every time he gets the ball in his hands, much like he did against South Carolina. The Buccaneers have one of the worst pass defenses in the NFL and need to combat the good quarterbacks in their division with a solid secondary.
10. Detroit Lions- Zach Allen, DE/OLB, Boston College
Nine sacks on the year is not good enough for new coach Matt Patricia. Allen has had two great years in a row and even outplayed former BC defensive end Harold Landry at times.
11. Cleveland Browns- A.J. Brown, WR, Ole Miss
Cleveland has a good number one receiver in Jarvis Landry, but could make this team better with another weapon for Baker Mayfield to use. Brown is an athletic, productive wide receiver who would start from day one.
12. New York Jets- Josh Allen, LB, Kentucky
The Jets could use some outside linebackers for their 3-4 scheme to get pressure on the quarterback. Allen can do anything asked of him on the defensive side of the ball. He has helped Kentucky to a successful year with his constant pressure on the quarterback with six sacks on the season.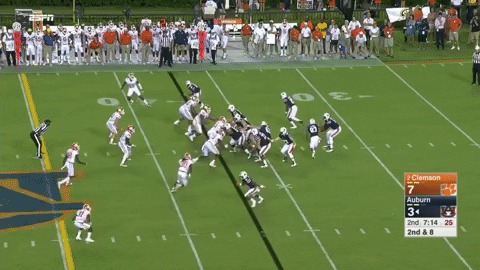 13. Tennessee Titans- Dexter Lawrence, DT, Clemson
Across the Titans' defensive line, Jurrell Casey is the only standout player. Lawrence can play multiple positions because of his technique and athleticism.
14. Dallas Cowboys- Marquise Brown, WR, Oklahoma
Brown is the fastest wide receiver in this draft class. He has great acceleration and makes great cuts in the open field. The Cowboys have very little talent at the wide receiver position. Dak Prescott isn't great, but he also has no one to throw to. Offensive coordinator Scott Linehan needs to be replaced, but in the meantime, they need to get more skilled players on the outside.
15. Seattle Seahawks- Quinnen Willaims, DT, Alabama
Seattle has very little talent on the interior of their defensive line and need to fix that if they hope to have any semblance of the great defense they had the last five years or so. Williams is an extremely disruptive player who could do some damage early in his career.
16. Houston Texans- Jonah Williams, OT, Alabama
The Texans have given up the second most sacks in the league and need to protect Deshaun Watson who is getting banged up. Williams hasn't played as well as expected this season, but in a weak tackle class, will probably get drafted highly.
17. Philadelphia Eagles- Greedy Williams, CB, LSU
Williams is one of the most naturally talented corners in this draft class. The redshirt sophomore has eight interceptions in his young career and looks like he could even improve in the future if he works on his technique.
18. Green Bay Packers- Montez Sweat, DE/OLB, Mississippi State
It is pretty clear that the Packers still need a lot of defensive help. They focused on the secondary in the 2018 draft and now can address the front seven. Sweat has a whopping eight sacks and 10.5 tackles for loss on the season.
19. Jacksonville Jaguars- Drew Lock, QB, Missouri
Blaker Bortles has been up and down this season, so the Jaguars might want to draft a quarterback. Even if they don't plan on giving up on Bortles, Lock can put some pressure on him to play better. Lock has slung the ball around well in the SEC, which is not an easy thing to do. His tape will allow him to be a first-round draft pick, although it is a down year for the quarterbacks
20. Pittsburgh Steelers- Devin White, LB, LSU
White is all over the field making tackles and using his athleticism. Last season he totaled 133 tackles and piqued the interest of NFL scouts.The Steelers are missing a lot without Ryan Shazier on the field. With White they will have a speedy inside linebacker who can help stop the run.
21. Minnesota Vikings- Michael Jordan, G/C, Ohio State
Jordan has a lot of experience at Ohio State and could vastly improve the interior offensive line play of the Vikings. Minnesota has the skill-position players, but needs to keep on improving the line play.
22. Oakland Raiders (via Chicago)- Trevon Diggs, CB, Alabama
The Raiders already addressed the pass rush and with the Khalil Mack pick they can help out the secondary. Diggs has had a good season, but is now out with a broken foot. His tape should still warrant a first round selection.
23. Washington Redskins- Deionte Thompson, S, Alabama
Alabama lost both safeties after last season, but Thompson has helped fill that void. The Redskins have D.J. Swearinger, but could improve the other safety position.
24. Carolina Panthers- Raekwon Davis, DE/DT, Alabama
Davis is a physical freak of nature at 6-foot-7 and 316 pounds and could greatly bolster the Panthers defensive line. He currently plays 3-4 defensive end, but could play 4-3 if asked.
25. Miami Dolphins- Christian Wilkins, DT, Clemson
The Dolphins lost Ndamukong Suh and have failed to adequately replace him. Wilkins is a good pass rusher for an interior lineman and is decent at stopping the run.
26. Baltimore Ravens- Amani Oruwariye, CB, Penn State
Baltimore could stand to improve their secondary after heavily focusing on the offense in last year's draft. Oruwariye had four interceptions last season and has two this season already.
27. Cincinnati Bengals- Jerry Tillery, DT, Notre Dame
Tillery has had a great career at Notre Dame and has been specifically effective this season. Geno Atkins is still an elite tackle, but Andrew Billings has had an injury plagued career.
28. Los Angeles Chargers- Dre'Mont Jones, DT, Ohio State
With Joey Bosa and Melvin Ingram on the outside, the pass rush is fine. The Chargers could use some help on the interior. Jones has had a great season so far and has helped Ohio State in the absence of Bosa.
29. New England Patriots- Parris Campbell, WR, Ohio State
The Patriots did get Josh Gordon, but he's unreliable to say the least. Outside of him, they are very thin at wide receiver.
30. Green Bay Packers (via New Orleans)- Bryce Love, RB, Stanford
The Packers have three running backs, but not a great one. If they got a better running game, it would keep Aaron Rodgers from having to do everything. Love could also help out in the passing game a little bit.
31. Kansas City Chiefs- Tre Lemar, LB, Clemson
Kansas City needs to improve their defense and they don't have the good linebackers that they once had.
32. Los Angeles Rams- Jalen Jelks, DE/OLB, Oregon
There aren't many needs for the Rams, but any team could always use more pass rushers. Jelks can fill in at the outside linebacker position, which will take some pressure of the great defensive line.
You can like The Game Haus on Facebook and follow us on Twitter for more sports and esports articles from great TGH writers!