The 2020 Mercari Texas Bowl will take place at 8pm ET on December 31st in Houston, TX. The 3-7 Arkansas Razorbacks will take on the 6-4 TCU Horned Frogs. The two former Southwestern Conference opponents meet for the 71st time with Arkansas holding the 44-24 lead, including two ties. We'll break down the matchup here.
Arkansas Razorbacks (3-7)
Arkansas was off to a solid start, surprising the rest of the conference with their 3-3 record. Wins came against then ranked Mississippi State, Ole Miss and Tennessee. Injuries and COVID complications contributed to a season ending four game losing streak in which the Hogs saw two games decided by three points or less in the final minute.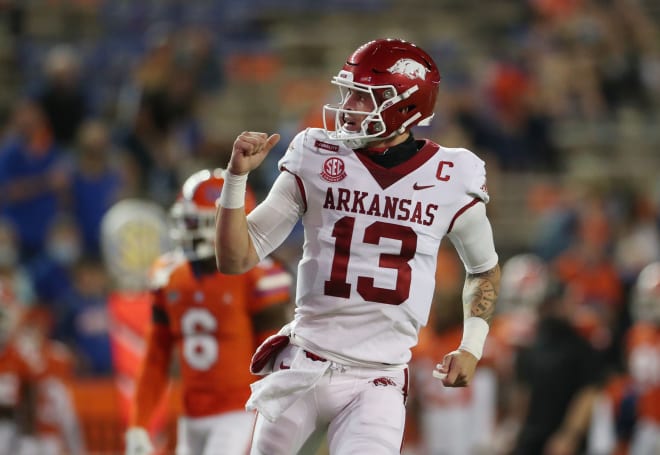 Arkansas's offense is led by fifth year senior Feleipe Franks. Franks had a very strong senior season in Kendal Briles's system, staying poised and calculated with few mistakes. Franks has a a completion percentage of 68.5 to go with 17 touchdowns and four interceptions. He also has 204 yards on the ground.
The defense had been a strong point for Arkansas through the first half of the season. They allowed more than 40 points in just one game and were leading the SEC in turnovers early on. The final four games took a toll on those numbers as Arkansas allowed 50+ points in three of the final four games.
TCU Horned Frogs (6-4)
Arkansas is going to have their hands full with a TCU team that finished 5-1 in the final six games. The Horned Frogs came up just short early in the year against Iowa State as well. They have the best rushing attack in the Big12 and rank fourth in the league in scoring at 30.8 points per game.
The running game starts with quarterback Max Duggan who's a formidable enough thrower that he's a duel threat for defenses. He leads the team with 526 yards and 10 touchdowns on the ground. A pair of young freshmen are forces in the back field in Darwin Barlow and Zach Evans. Evans was the top ranked recruit in Texas last year and has emerged late with two 100 yard games in the final three games.
Defensively the Horned Frogs are balanced against the run and the pass. NFL prospect Trevon Moehrig leads a strong secondary that leads the Big12 in completion percentage at just 54.2%. They have 43 passes defended along with eight interceptions.
Prediction
This should be a hard fought game between two teams that are on the rise. Arkansas has the senior leadership of Feleipe Franks and has been so close to getting one more win. It should be a close one but look for Arkansas to prevail.
Arkansas: 31, TCU: 27
Make sure to check out our college football page for more content!
You can like The Game Haus on Facebook and follow us on Twitter for more sports and esports articles from great TGH writers!