1. Cassius Winston-Michigan State
Winston is the best point guard in the country and everything Michigan State runs is through him. The ability to shoot perimeter jumpers off the bounce is very good. His distribution skills are very good being able to give his teammates great scoring opportunities. He plays with great poise and body control. Winston is not the quickest but uses his high IQ and takes good angles to get the necessary separation. A pretty good driver finishes around the rim effectively and is very good in ball screen action. His lateral quickness is not very good and he can get caught off guard by cutters. His on-ball defense is solid as his technique is there so he stays in a good position. Winston will be a player of the year candidate and will be looking to lead Michigan State a national championship.
2. Myles Powell-Seton Hall
The entire offense revolves around Powell. His shot-making ability is at an extremely high level. He moves without the ball well and he can hit perimeter jumpers on the move or with spot-ups. He's very physical and strong with the ball and creates really good separation for shot creation and drives. His mid-range game is very good as well. He's a pure scorer and can lead the country in scoring next year. He's an average defender who does a solid job of sticking with his man. The lateral movement could improve along with playing with more activity defensively. Powell is looking to lead Seton Hall, who has a great chance to win the Big East with the majority of rotation players returning.
3. Kerry Blackshear-Florida
The best available immediate eligible transfer from Virginia Tech chose to go back to his home state in Florida. Blackshear will be an impact star and likely All-American for Florida and make them a national title contender. He can get to his spot active offensively great touch around the rim and can step away. Blackshear is a matchup problem that will give defense fits. Defensively, he does not have great feet or length and can get faced up an attacked. Overall, he's one of the most dominant big men in the country with his offensive skill set.
4. Jordan Nwora-Louisville
Nwora is an elite scorer at all three levels he brings good size and can get his shot over the top. He's a really good driver who can also have really good body control and pull up well in the mid-range. His three-point shot off the catch and bounce is very good and he runs the floor well in transition. He can be reckless at times and he must improve his overall decision making. In addition, he gets in a good position on defense and brings good length. His body must get stronger to really become a more effective defender. Nwora will be one of the best players in the country on a national title-contending team in Louisville.
5. Udoka Azubuike-Kansas
Azubuike is a dominant force around the basket with his great size and touch. He has the ability to play above the rim and catch and finish with great touch. Further, his ability to dominate the boards on both
ends is really good, along with his ability to protect the rim. His overall strength makes him a very difficult matchup forcing double teams. Also, he is very good on the left block, drop stepping with force. Defensively he brings really good size and strength with the ability to alter shots. Also, when on the perimeter he doesn't have great foot speed, but he does a good job of containing dribble penetration.
6. James Wiseman-Memphis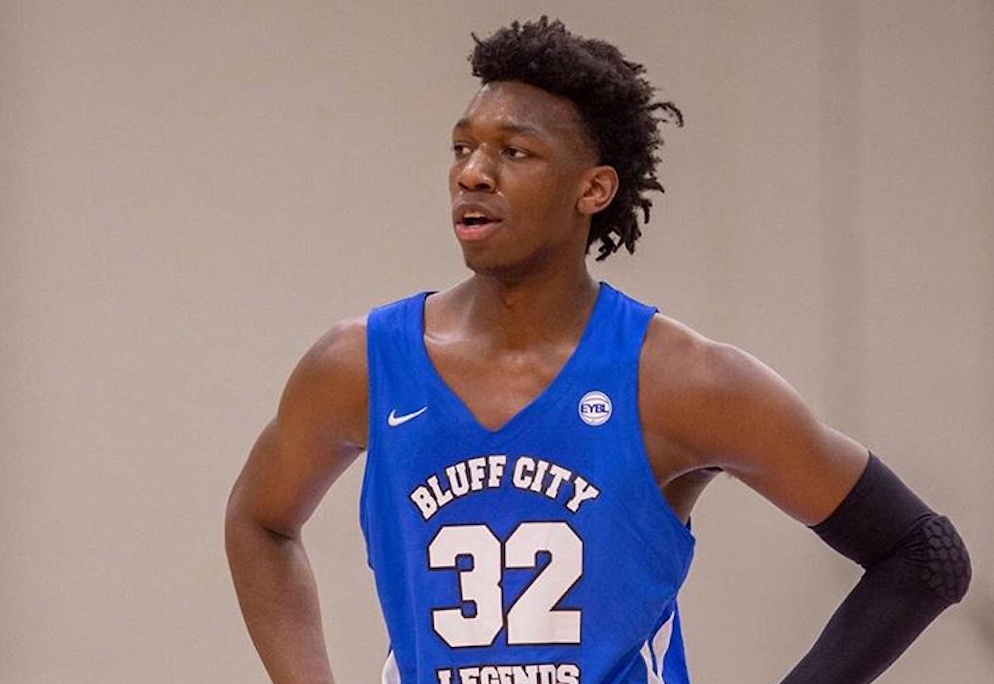 Wiseman has the ability to run the floor at a very high level as well as his ability to be highly skilled with the basketball. Further, he is very dominant with his left hand and very difficult to contain in the post. In addition, he brings great size and length which makes him tough to score against. Also, he brings the ability to dominate the glass on both ends. He can step out and hit perimeter jumpers along with being able to defend on the perimeter. Wiseman will be a dominant force next season and could put Memphis back on the national radar.
7. Anthony Cowan-Maryland
Cowan is a very good all-around point guard. His effort is solid defensively. He could be a more productive defender against dribble penetration. His active hands defensively are very solid as well. Cowan can improve on becoming a more efficient shooter with better shot selection. Also, he could be an even better distributor than he already is. His ability to hit perimeter jumpers is very good on the catch and dribble. He plays with really good composure and awareness. He's a pretty effective driver who also has good touch around the basket. Cowan is looking to lead Maryland to a deep NCAA tournament run.
8. Tre Jones-Duke
Jones is an elite on-ball defender who is arguably the best defender in the country. He uses his active hands to create turnovers and has the ability to stay in front is as good as anyone in the country. Also, Jones rebounds well for his size and gets out in transition well. He will be the leader for Duke and be the anchor of the defense. His biggest improvement needs to be to become a consistent shooter who can be reliable from mid-range and three. He's good at attacking the basket and finishing with runners and off-balanced layups.
9. Markus Howard-Marquette
Howard's ability to score is exceptional. He moves without the ball really well, along with his ability to pull up off the dribble in the mid-range and for three. He's always shot ready and will shoot a high volume of shots. He can also get downhill and finish around the basket pretty well. The offense for Marquette will entirely run through Howard and he has a great chance to lead the country in scoring. He's a decent defender, as he does an okay job of staying in front. Off the ball, he gets caught out of position and will be late for closeouts. Marquette will be very dependent on the production of Howard after losing the Hauser brothers to transfer.
10. Cole Anthony-North Carolina
Anthony brings explosiveness as an exceptional athlete. He competes at a high level on a consistent basis. He does a really good job of attacking the basket in the half-court and in transition. On the defensive end, the ability to stay at the front is really good with his technique and energy. Anthony is a solid shooter but could improve as an overall shooter to be able to score consistently at three levels. Anthony will be one of the best freshmen in the country looking to lead North Carolina to another deep NCAA tournament run.
11. Jarron Cumberland-Cincinnati
Cumberland is a pure scorer who can get his shot off at any time. He brings really good physicality to get open off the ball. Also, he has the ability to handle the ball and play off the ball both very well. The mid-range game of Cumberland is very good with the ability to step back and get separation. He's not the quickest defender, but he brings a toughness to guard on the perimeter and post. Cumberland will be one of the best players in the country next season.
12. Anthony Edwards-Georgia
Edwards brings really good physicality and athleticism with great skill. Also, he has the ability to score from all three levels. Further, he has the ability to finish around the basket and get others involved. His best attribute is that he is very strong with the ball. He must show consistency on defense to become a better defender. He has the physical body and athleticism to become an effective defender.
13. Tristan Clark-Baylor
Clark is a dynamic athlete who possesses great skill and he dives to the basket very hard. His activity on offense is really good, as he looks for post-ups with active hands. He is very smooth around the basket, being able to operate attacking both sides. He's an all-around post player with good feel, footwork and ability to explode to the basket. His ability to get in good post defense position allows him to help well. His feet move very well giving him the ability to move laterally. As long as his health is good, he will be an all-Big 12 performer.
14. Sam Merill-Utah State
Merrill is the best player in Mountain West Conference. He brings good activity and size defensively. He's not the quickest on-ball defender and can get beat off the bounce. Merrill does a good job of contesting all jumpers and does a solid job of sticking to his man. He has the ability to score at all three levels and there is a great composure with a smoothness to his offensive skills. Size and length can give Merrill problems with his lack of athleticism. When he has the separation and space he's one of the most complete scorers in the country. Merrill is looking to lead Utah State back to the NCAA tournament.
15. Lamar Stevens-Penn State
Stevens has really good control and physicality. He has a very solid mid-range jumper in which he takes in rhythm. The feel he plays with is really good and he has the ability to attack isolation posts. He can utilize his physicality and dominate more in the post and get post-up opportunities. His post defense is really good, as he has great positioning and good strength. His length and ability to guard on the perimeter is very solid. Peters is a very well rounded defender who could have a huge year next season for Penn State.
Images Courtesy of, 247 Sports, Our Daily Bears,
You can "Like" The Game Haus on Facebook and "Follow" us on Twitter for more sports and esports articles written by other great TGH writers along with James!
"From Our Haus to Yours"