1. Myles Powell-Seton Hall
The entire offense revolves around Powell. His shot-making ability is at an extremely high level. He moves without the ball well and he can hit perimeter jumpers on the move or with spot-ups. He's very physical and strong with the ball and creates really good separation for shot creation and drives. His mid-range game is very good as he's a pure scorer and can lead the country in scoring next year. He's an average defender who does a solid job of sticking with his man. His lateral movement could improve along with playing with more activity defensively. Powell is looking to lead Seton Hall who has a great chance to win the Big East with the majority of the rotation players returning.
2. Jarron Cumberland-Cincinnati
Cumberland is a pure scorer who can get his shot off at any time. He brings really good physicality to get open off the ball. Also, he has the ability to handle the ball and play off the ball both very well. The mid-range game of Cumberland is very good with the ability to step back and get separation. He's not the quickest defender, but he brings a toughness to guard on the perimeter and post. Cumberland will be one of the best players in the country next season.
3. Anthony Edwards Georgia
Edwards brings really good physicality and athleticism with great skill. Also, he has the ability to score from all three levels. Further, he has the ability to finish around the basket and get others involved. His best attribute is that he is very strong with the ball. He must show consistency on defense to become a better defender. He has the physical body and athleticism to become an effective defender.
4.  Joe Weiskcamp-Iowa
He is a very good shooter from the perimeter and can dribble penetrate for mid-range jumpers. Weiskcamp moves without the ball very well and is always shot ready. He has good size and can post up in mismatches. He is a solid driver, but can improve his finishing ability. He's a good defender with his size and length, as he contests all shots very well. Weiskcamp will be the primary scorer on the perimeter with the injury of Jordan Bohanan being out indefinitely.
5. Aaron Henry-Michigan State
Henry is solid offensively and takes high percentage shots with threes and mid-range jumpers. Rebounds well also get second chance opportunities for him. He is sneaky athletic as well as a very well rounded player who could take the next step filling in for Matt McQuaid next to Joshua Langford. Next, he has the ability to attack the basket in full control and finishes strong. Henry plays with good size and length defensively as he is always in a good position. The one improvement is to have something in his game stand out and be great at something, but he is already very solid across all areas.
6. Markell Johnson-NC State
Johnson is very good at going downhill off of ball screen action. He plays with very good feel and can finish well around the basket. Also, he can consistently hit mid-range pull-ups and three-pointers off the catch and bounce. Johnson is a high-level scorer. The ability to help and recover is very good for Johnson. Further, his length and on-ball defense with staying in front and contesting are really good.
7. Ja'vonte Smart-LSU
Smart is a tough physical guard who can get downhill very effectively. He's best in ball screen action where he can operate in one on one drives. The ability to go in transition is really good with his physical nature. Also, he must become a more consistent shooter to be a complete player. His lateral quickness is not great and he can be caught in ball screen actions. Further, his ability to become a more physical and active defender is important for his development.
8. Ochai Agbaji-Kansas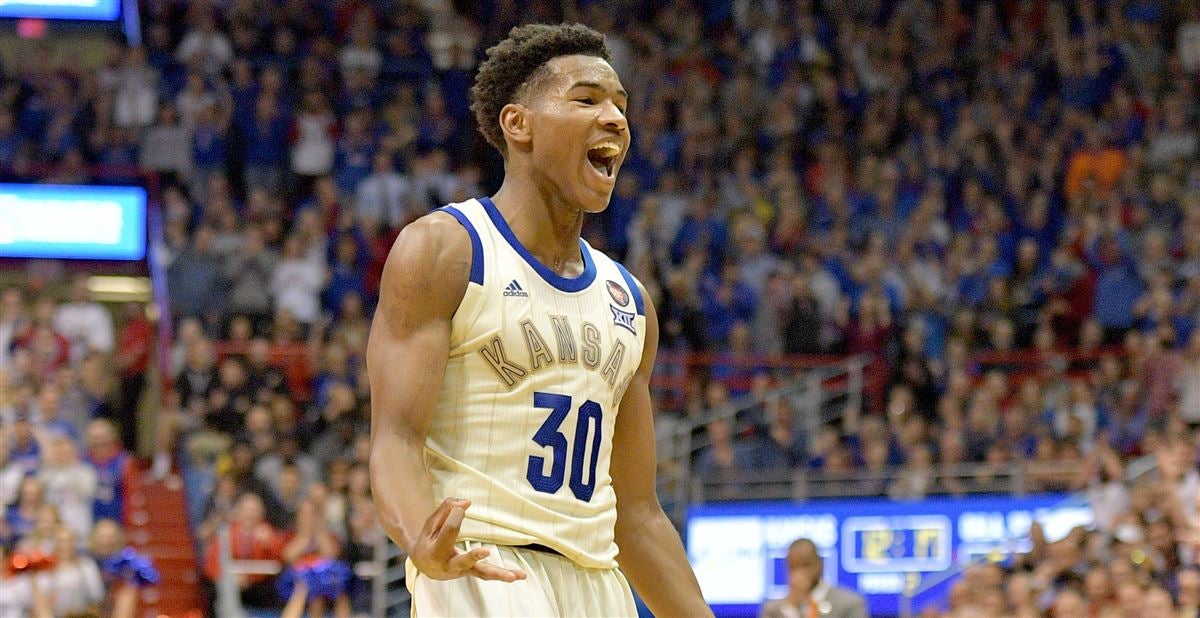 Agbaji is a very solid all-around player who is sneaky athletic. He is a three-level scorer who gets in a great position to score. His willingness to play with freedom on offense is an asset. The strength he has to get to the basket and score effectively is great. He has great potential with his limited experience and raw skill set. Agbaji is very composed with a good feel in his game. His size and activity as a defender are pretty good. The potential for Agbaji is very high and he should be a breakout player in the Big 12.
9. Kellan Grady-Davidson
Grady, a really smart offensive player can cut very effectively. He's a great mid-range and perimeter scorer and is Davidson's go-to player. His foot speed is not great,  but he brings solid technique and effort on defense. He's pretty active off the ball being engaged in a position to help. His movement without the ball is top-level good. He plays with a very good feel and composure. Furthermore, he lacks great athleticism, therefore, he can struggle to get by guards to get to the basket. He will be looking to lead Davidson to the NCAA tournament next season.
10.  Scottie Lewis-Florida
Lewis brings a great motor on a consistent basis on both ends. Next, his ability to defend is really good with his quickness, length and competitiveness. He is an effective passer with the ability to put his teammates in spots to succeed. His development as a shooter will determine his ability to really impact the game immediately.
Images Courtesy of, 247 Sports, New York Post, The Daily Iowan
You can "Like" The Game Haus on Facebook and "Follow" us on Twitter for more sports and esports articles written by other great TGH writers along with James!
"From Our Haus to Yours"