(6) Kentucky vs (5) Ohio State
The CBS Sports Classic headline game will be vital for Kentucky to get back on track after their loss to Utah. Further, the Kentucky backcourt must elevate their game in this matchup to compete with the depth of Ohio State's backcourt. Specifically, Immanuel Quickley and Tyrese Maxey must provide consistency in this game. Additionally, the frontcourt of Kentucky must defend with great length and toughness against Kaleb Wesson in this matchup. Nick Richards and Nate Sestina must both step up their games as offensive threats. In addition, Keion Brooks and Khalil Whitney need to produce versatility and depth off the bench.
As for Ohio State, they have played very well this far into the season. Now, they will need the return of Duane Washington to stretch the defense with his ability to make threes. Next, CJ Walker and D.J. Carton has complemented each other greatly and have been a good backcourt duo. Further, the versatility and toughness of Andre Wesson and Kyle Young are vital for their success. Also, Kaleb Wesson has played like an All American and will need to continue this for Ohio State in this game. The x-factor for Ohio State is Luther Muhammad who can defend and shoot at a high level. The consistency and defined roles of Ohio State will prevail in this game over Kentucky.
Prediction: Ohio State 75 Kentucky 69
(1) Kansas at (18) Villanova
Kansas will be tested in their first true road game against Villanova. The duo of Udoka Azubuike and Devon Dotson create the best inside and out combination in college basketball. They will carry the day against Villanova in this game. Furthermore, the emergence of Ochai Agbaji will be vital in this game against Saddiq Bey and Justin Moore in this game. Also, David McCormick and Silvio De Sousa will have a major responsibility to contain Jermaine Robinson-Earl who has a very smooth game. In addition, Marcus Garrett will be key in causing havoc on the defensive end. Kansas will need to keep up with threes at times therefore, Isiah Moss and Devon Dotson will need to deliver big shots.
For Villanova, they are slowly progressing into a team that will be extremely dangerous in the second half of the season. This starts with the play of Collin Gillespie who sets the tone when he plays well Villanova plays well. Further, Justin Moore has been sensational for Villanova as a guy who delivers each game. Next, Saddiq Bey and Jermaine Samuels will be vital with their size and scoring on the wings. Also, the shooting of Cole Swider will be key in stretching the defense. The biggest factor that will be establishing Jeremiah Robinson-Earl will be vital to get the offense flowing. This is a statement game for Villanova and they will prevail against Kansas.
Prediction: Villanova 78 Kansas 75
Notre Dame at Indiana
This battle for the state of Indiana will be a great for an opportunity for a signature win. For Notre Dame, this is a statement game for them and John Mooney will need to play well against Trayce Jackson-Davis. Additionally, Prentiss Hubb will need to continue to play well as a consistent threat in the backcourt. Also, T.J. Gibbs plays a major role in the backcourt and will need to elevate over the Indiana backcourt. In addition, Nate Leszewski needs to elevate in the frontcourt with John Mooney to give them identity their. Rex Pfluger needs to continue to provide versatility and timely scoring with Dane Goodwin elevating off the bench.
Archie Miler has Indiana off to a great start and is looking to continue that. The strength of this team is in the frontcourt with Trayce Jackson-Davis and Justin Smith dominating the paint. Further, the wing in Al Durham needs to be a solid defender in this game and make timely shots. In addition, Devonte Green and Rob Phinisee must continue to provide major scoring and consistency to the backcourt for Indiana to reach their potential. As well as, Joey Brunk doing all little things to make Indiana has been vital to their success. Indiana is playing more consistent basketball and will outlast Notre Dame.
Prediction: Indiana 68 Notre Dame 62
VCU at Wichita State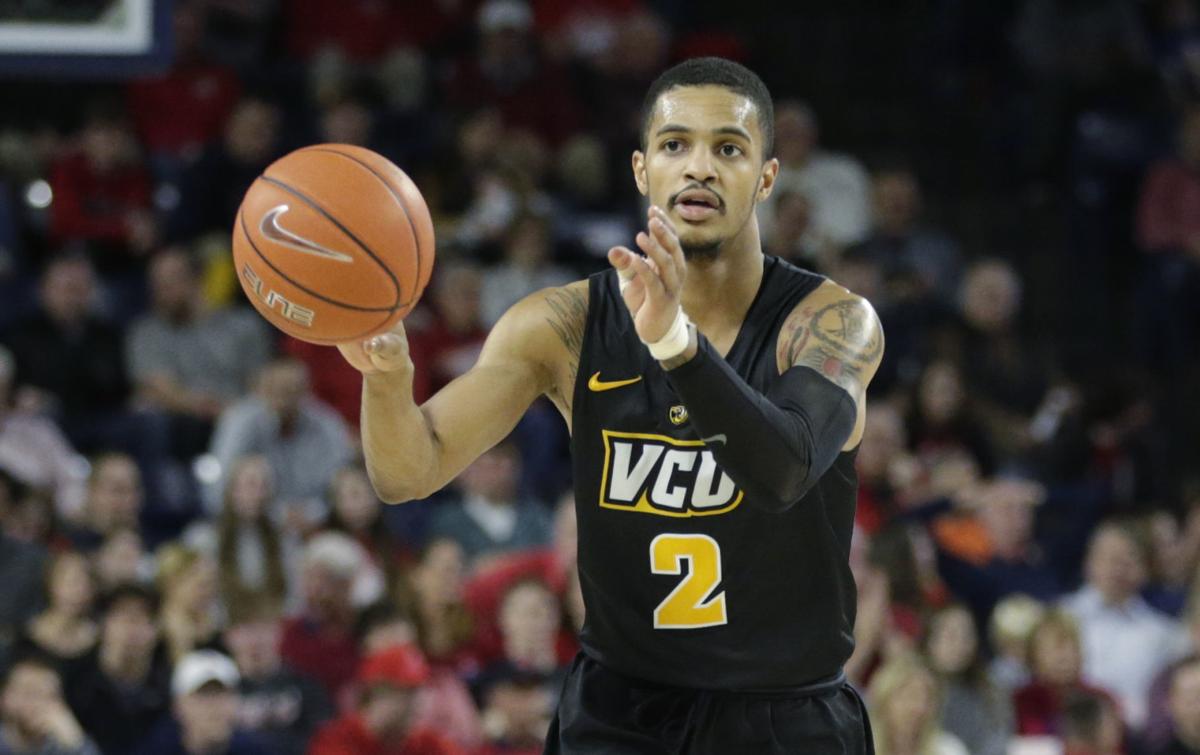 This will be a game between two teams who play with great tenacity. Wichita State has gotten off to a great start and will need that to continue against VCU. The scoring of Erik Stevenson and the toughness of Jamarius Burton has made the backcourt of Wichita State a very solid team. Next, Trey Wade is providing good scoring and energy on the boards. Furthermore, Jaime Echenique is huge for the success of Wichita State who is a major force for them inside. The depth of Wichita State is very key because this length evens their minutes and can allow them to play more aggressively.
VCU is built with the same kind of style. De'Rainte Jenkins and Marcus Evans create a dynamic backcourt for VCU and lead them on both ends. In addition, Marcos Santos-Silva gives them a force inside that they can consistently go to. Next, the size of Issac Vann and Mike'L Simms will be key for their success offensively and defensively against Wichita State. Again, the depth of VCU will play a major role in this matchup. The experience of VCU will outlast Wichita State in this game.
Prediction: VCU 57 Wichita State 53
(13) Dayton vs Colorado
This is a huge opportunity for both of these teams to pick up a quality win. Dayton is being led by Obi Toppin who is playing at the caliber of an All-American. Next, the help he is getting has been exceptional with Trey Landers and Rodney Chatman being very consistent in the backcourt. In addition, to Ryan Mikesell being a very good stretch four and is complementing Toppin very well. Further, the scoring off the bench led by Ibi Watson has been superior to his ability to make perimeter jumpers. Dayton is a complete team who is playing as a whole unit. As for Colorado, their success starts with the play of McKinley Wright leading the way offensively. Next, Tyler Bey has had a great season being a versatile player who can score and defend at a high level. Furthermore, the depth has a had major help with Shane Gatling Lucas Siewert stepping up individually. In addition, the play of Evan Battey will be vital in helping to contain Toppin. The matchup of Toppin and Bey will an extremely competitive matchup that could dictate the game. The depth and consecutiveness of Dayton will outlast Colorado in this matchup.
Prediction: Dayton 73 Colorado 66
Images Courtesy of, Eleven Warriors, Richmond Times-Dispatch, VU Hoops
You can "Like" The Game Haus on Facebook and "Follow" us on Twitter for more sports and esports articles written by other great TGH writers along with James!
"From Our Haus to Yours"