These freshmen are looking to take the next step in their games with further development. They will go from being good players to top-level players with more development. Freshmen development is key for the player's growth in year two. The following is a breakdown on each player's skill set and the areas they need to make improvements on to take their game to that next level.
Here are some freshmen looking to take that next step:
Ochai Agbaji, Kansas, Guard
Agbaji a very solid all-around player who is sneaky athletic. He's a three-level scorer who gets in a great position to score to go along with his willingness to play with freedom on offense. He has the strength to get to the basket and score effectively. He has great potential with his limited experience and raw skill set. He is very composed with a good feel in his game. His size and activity as a defender are pretty good. The potential for Agbaji is very high and he should be a breakout player in the Big 12.
Averaged 8.5 points 4.6 rebounds 0.9 assists 44.9 FG% 30.7 3pt%
Mac McClung, Georgetown, Guard
He's got a good vertical, however, there are limits to his athleticism outside of that. McClung has a great ability to go downhill especially in ball screen action. He can pull up in the midrange quickly and effectively. Also, the shot selection by McClung must improve to become a more efficient player along with his perimeter jumper. In addition, he needs to improve his ability to move without the ball and be less ball dominant. He can get caught out of position defensively and lacks the lateral quickness to stay in front.
2018 -19 Averages 13.1 points 2.6 rebounds 2.0 assists 39.2 FG% 27.7 3pt%
David Duke, Providence, Guard
Duke has the size to post up smaller guards and can be effective. He must continue to evolve his game as a driver, as that is where he'll be the most dominant. He also needs to really improve his jumper to keep the defense honest. Duke is very athletic, but lacks great effort on defense. In order to take the next step, he must become a willing defender. Athletically he has the talent, but the skill and motor are lacking.
2018 -19 Averages 7.1 points 2.6 rebounds 2.1 assists 38.7 FG% 29.7 3pt%
A.J Reeves, Providence, Guard
Reeves is a very good shooter who is always shot ready. He has very good size to get shots over the top of the defense. Reeves could establish his size and strength more to penetrate towards the rim and improve his finishing ability. He should be able to become a lethal shooter as he continues to develop. Reeves struggles with his athleticism and does not have a great first step. He lacks good feet speed to stay in front as well as to help and recover.
2018 -19 Averages 9.8 points 3.0 rebounds 0.6 assists 42.3 FG% 38.1 3pt%
Robert Woodard, Mississippi State, Guard
Woodard must improve his three-point shot in order to make up for his lack of explosion. He is solid on the boards and gives good effort consistently. He can get out in transition well and when he is around the basket he finishes well. Woodard is a good cutter as well, as he moves without the ball well. Woodard doesn't have the best foot speed to stay in front of the offensive player. He has good size, but needs to be able to play one step ahead to make up for lack of athleticism.
2018 -19 Averages 5.5 points 4.1 rebounds 0.7 assists 46.8 FG% 27.3 3pt%
Luther Muhammad, Ohio State, Guard
Muhammad is a good shooter, who is always shot ready and good at creating space. He can put the ball down and create for a shot in the mid-range with an ability to get to the basket. Muhammad must improve as a ball handler in order for him to get higher percentage shots. He has good size and length and brings good on-ball pressure defense because he plays with good energy. He always contests every shot attempted. The continued development should allow him to become a more complete player for next season.
2018 -19 Averages 7.6 points 2.7 rebounds 1.7 assists 37.4 FG% 37.5 3pt%
Noah Locke, Florida, Guard
Locke plays with good feel and control get to his spots. He can shoot the ball very effectively from the perimeter and plays with a high IQ. Locke moves without the ball very well and uses head fakes well. He brings good energy on defense and is a compact defender who gives a good fight. Locke can be a tad slow in recovery and on the ball, but gets in a good position. He also needs to improve becoming more multidimensional as a scorer. His production should only increase for next year.
2018 -19 Averages 9.4 points 2.3 rebounds 0.6 assists 37.5 FG% 37.9 3pt%
A.J Green, Northern Iowa, Guard
He is a high-level scorer, who can really shoot the ball. Green is the best player for Northern Iowa and will be the staple to their future success. Green is a good ball handler who operates well in ball screen action. Green can become a more consistent driver to open up his perimeter game. He has good size and length, but lacks the on-ball quickness to stay with quicker guards. His body must continue to develop to take the next step.
2018 -19 Averages 15.0 points 3.0 rebounds 2.3 assists 41.0 FG% 34.8 3pt%
Matthew Mayer, Baylor, Guard
He is a uniquely built player who is extremely thin and must continue his body development. Mayer brings very good size and length. He has a very smooth shot, especially on pull-ups. Mayer must become a more effective spot-up shooter with continued confidence. He is an underrated cutter who moves without the ball pretty well. As a defender, his length makes him take up space in a zone and can close out effectively. His body is the key to his development.
2018 -19 Averages 4.6 points 2.0 rebounds 0.8 assists 33.1 FG% 30.8 3pt%
Jared Butler, Baylor, Guard
Butler is a solid scorer who can score with threes and getting downhill to the basket. The efficiency with his shooting percentage must get better. He brings good ball handling skills and body control with a good spin move to the basket. His on-ball defending ability must improve. Butler tends to get caught out of position and his quickness doesn't help him keep up. Overall as a defender, his size is solid, but he must improve to be effective on that end.
2018 -19 Averages 10.2 points 3.1 rebounds 2.7 assists 39.5 FG% 35.1 3pt%
Gabe Brown, Michigan State, Forward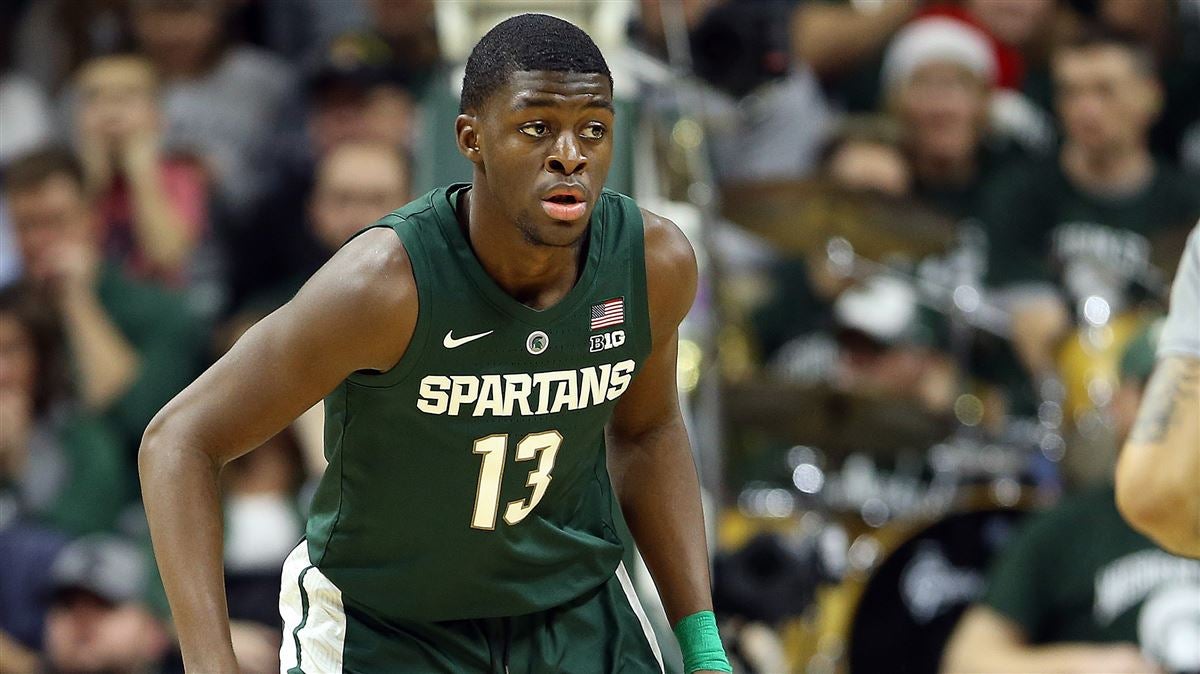 Brown spots up very well and moves without the ball effectively. He must improve his ball-handling skills in order to utilize the mid-range and drives to the basket. His best attribute is being a spot-up shooter. He'll be a breakout candidate on offense as he has great touch. Brown has eally good size and length, but also moves his feet very well. Brown joining Langford and Henry on the wings will give Michigan State the best trio of wings in the country.
2018 -19 Averages 2.3 points 1.2 rebounds 0.1 assists 39.0 FG% 37.2 3pt%
Tyler Harris, Memphis, Guard
He must improve as an overall shooter to improve his ability to penetrate and get others involved. He can really push the ball in transition with his great speed and operates well in ball screen action. Harris is a high energy guard who gives a good effort on both ends. He's a quick defender, but his size can be exposed by bigger guards. His leadership and energy could spark a rising Memphis team for next year.
2018 -19 Averages 10.8 points 1.8 rebounds 1.9 assists 36.9 FG% 31.5 3pt%
Robert Phinisee, Indiana, Guard
He has a quick first step and can explode to the basket. Phinisee must improve his shot selection to become a more effective shooter. He is a tough guard who likes to penetrate to create for himself with slight hesitation and to create for others. Improvements on being a better decision maker are necessary to take the next step as a lead guard. Phinisee is an engaged defender who has good length. In addition, he needs to have the better lateral quickness to be a stronger defender.
2018 -19 Averages 6.8 points 3.3 rebounds 2.9 rebounds 36.1 FG% 31.0 3pt%
Tyrese Haliburton, Iowa State, Guard
He is a very athletic guard who is long and a really effective scorer at all three levels. Haliburton will get in the passing lanes and can really finish well in transition as a dynamic athlete. He spots up well, which can spread the floor, but he can attack in a multitude of ways. He could continue to build up his body to become a stronger driver and defender. His length and size can be a disturbance on the perimeter for guards. He could improve on becoming an off-ball defender with better recognition. His athleticism matched with his efficiency will only continue to improve his overall game.
2018 -19 Averages 6.8 points 3.4 rebounds 3.6 assists 51.5 FG% 43.3 3pt%
Nate Laszewski, Notre Dame, Forward
Laszewski has solid feet and length as a defender and he can run the floor pretty well. He does a very underrated job of altering shots with good length. He is a big stretch four who can extend the defense as he's shot ready at all times. Laszewski gives good second efforts on the offensive boards. He must continue to build his body and work on his post game to be able to develop further.
2018 -19 Averages 6.9 points 3.9 rebounds 0.2 assists 39.2 FG% 3pt% 33.8
Images Courtesy of 247 Sports, Big East Coast Bias, The Kansas City Star
You can "Like" The Game Haus on Facebook and "Follow" us on Twitter for more sports and esports articles written by other great TGH writers along with James!
"From Our Haus to Yours"